Volunteer Spotlight: Stan Hebert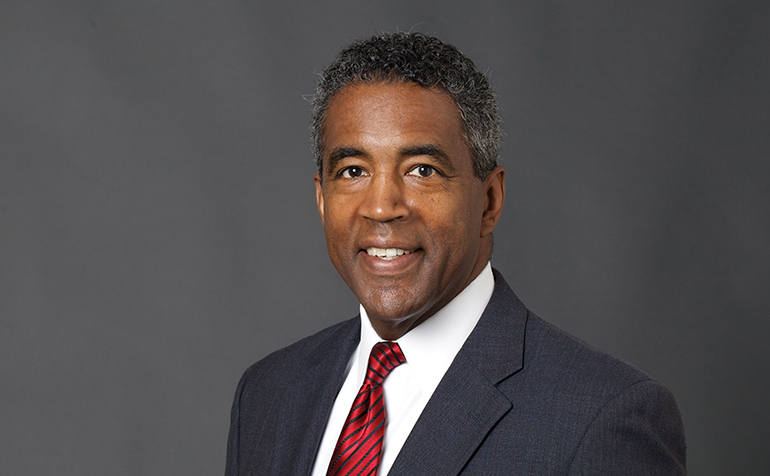 Since his graduation from Cal State East Bay (Hayward), Stan Hebert has shared in establishing student support programs and creating the first Black Alumni Association. Mr. Hebert contributes his time and talent working as a volunteer for both alumni and students. We recently interviewed him to find out more about his volunteer roles as a Pioneer, and what motivates him to give back. 
HOW DID YOU BECOME INTERESTED IN VOLUNTEERING WITH CAL STATE EAST BAY?
Volunteer service has been a part of my family for as long as I can remember. Both of my parents were always active helping or leading community activities, and they would bring us along to keep an eye on us and sometimes to help with the work. Volunteering and helping in our community was a way of life for us growing up. 
My first year at Cal State East Bay (Hayward) was also my first year in California (I came from Washington, DC). Volunteering was a great way to meet folks and learn more about the campus community. My fraternity, Kappa Alpha Psi, had community service requirements that added to my volunteering. My dad was a volunteer member of the university's Board of Visitors during my years as a student. 
After I graduated, I supported campus activities, especially those that help current students. Eventually, I was elected to the Alumni Association Board and ultimately served as president for several years before joining the statewide CSU Alumni Council, where I served in various volunteer leadership roles, including president. 
My volunteer work continued even after being appointed to an administrative position in the CSU. Volunteer service again provided a means of learning more about each campus, the community, and the students. 
Often, I volunteered because I felt I could make a difference, and few others were as interested or enthusiastic as I was. Through volunteer service, I've continued to learn-by-doing and have made countless numbers of contacts and friends. 
WHAT DREW YOU TO SPONSOR BOTH THE SANKOFA AND KALEIDOSCOPE PROGRAMS ON CAMPUS? 
The Sankofa Scholars and the Kaleidoscope Mentoring Programs were developed in response to the university's recognition of low retention and graduation rates among Black students. At that time, I was acting vice president for Student Affairs, and was charged by then President Morishita with developing an immediate response to this statistical trend. I convened a team of university leaders, along with former Student Equity and Success executive director Dr. Alison Richardson (Ed.D. '19, Educational Leadership) who researched and discovered that many Black students were leaving after their initial year at Cal State East Bay. 
Although many students would return to continue their higher education, we wanted to address these issues that caused Black students additional time and money to complete their degrees. We learned that some students didn't believe they belonged in a university—what is known as "imposter syndrome"—and others were not emotionally prepared for the rigors of higher education. If we could reach these students as early as possible—even before they arrived for their first class— this would improve their results. 
The team worked to create what ultimately became the Sankofa Scholars Program, which provides academic support for new transfer students, and the Kaleidoscope Mentoring Program, which is designed to match faculty or staff mentors with incoming Black students to better connect and support them during their initial year at Cal State East Bay. I served as a mentor for several students in Kaleidoscope and was the initial faculty-of-record for the Sankofa Scholars Program. 
With the help of Cal State East Bay's University Advancement, my wife and I designed a donation registry when we were married in 2016. Instead of gifts, we asked our guests to donate to the Stanley and Angela H bert Student Mentorship Support Fund that would assist student mentoring efforts at the university. We would learn the identity of the donors so we could thank them, but would not know the amount. My wife and I continued to donate to the fund until the total reached the amount needed for an endowment. 
YOU WERE ONE OF THE FOUNDERS OF THE FIRST BLACK ALUMNI ASSOCIATION. WOULD YOU MIND SHARING WHAT MADE YOU DECIDE TO CREATE THIS GROUP? WHAT WAS ITS PURPOSE? 
When I initially attended alumni activities, I didn't see any former students that looked like me. There were active Black student groups during my undergraduate days, and a good number of Black students on campus but few, if any, were active with the Alumni Association. 
I cannot say I was a founder of black alumni participation at Cal State East Bay, but I was the first Black Alumni Association president, and have always been focused on bringing more Black alumni to the table. During my many years as an Alumni Association Board officer, I encouraged the development of "affinity groups." These groups included a Black Affinity Group. 
The idea for establishing these groups to increase the total number and diversity of participating alumni came from then Director of University Relations, Dennis Lavery, and our Alumni Director, Carrie Rohlfing, now Carrie Stewart (B.S. '85, Physical Education). Each group was formally "chartered" with the Alumni Association, and was responsible for determining their structure, officers, and activities. Every affinity group could have a representative on the alumni board. This not only allowed the alumni membership to grow, but also broadened the representation in the leadership of the Alumni Association. 
I remain supportive of reaching Black alumni and encouraging participation in university efforts to help current students. The East Bay Affinity Network is the current effort that embraces Black alumni outreach and programming. 
I UNDERSTAND THAT YOU ALSO VOLUNTEERED TO HOST EVENTS. ARE THERE PARTICULAR EVENTS THAT YOU ENJOYED HOSTING, AND WHY? 
In the past, I have volunteered to host (or co-host) events. One example is a reception at a downtown Hayward restaurant and bar for Cal State East Bay athletes from the 1970s. The event allowed for a more intimate gathering of former classmates to reconnect and share stories from our years competing as Pioneers. Hosting adds a personal touch to the invitation and seems to generate a more positive response. 
Another example is when I co-hosted breakfast for Super Sunday. For those who aren't familiar with this event, Super Sunday is when students, faculty, staff, and alumni volunteers go to various churches to talk with prospective Black students and their parents about college admission, financial aid, and careers. The breakfast that I hosted for the volunteers was held at a soul food restaurant in Oakland, a location central to the various church sites. This is an excellent way to thank the Super Sunday volunteers and to allow them an opportunity to share their Super Sunday experiences. 
I enjoy the opportunity to host or be a part of an event that brings folks together for positive interaction. These events help guests pleasantly reminisce on days gone by, while creating new memories and friends from the event. 
WHAT IS IT ABOUT VOLUNTEERING THAT KEEPS YOU GOING AND INSPIRES YOU?
Through volunteer efforts, I always learn something new and meet new people. In some cases, I get to engage in activities that I might not have attempted on my own. 
Volunteering also keeps me current with the triumphs and challenges that students and others are experiencing. I've discovered new interests thanks to volunteering. 
IF A CAL STATE EAST BAY ALUMNUS OR ALUMNA WERE INTERESTED IN VOLUNTEERING, WHAT WOULD YOU SAY TO THEM? WHAT WOULD YOU WANT THEM TO KNOW?
Volunteering is easy and fun! Yes, it's "work," but most often flexible work. Your time commitment is often negotiable. I often end up giving more time than I originally planned. 
You want to make sure that you are clear with your expectations when volunteering. Be open to new experiences; you can learn valuable skills through volunteer service. Volunteering allows you to show and develop more of your talents, skills, interests, personality, etc. Many of my new jobs were earned via volunteer service, because potential employers got to see how great I was in a real-life situation. The rewards are many, even though you are not paid for your volunteer hours.