Incubating Innovation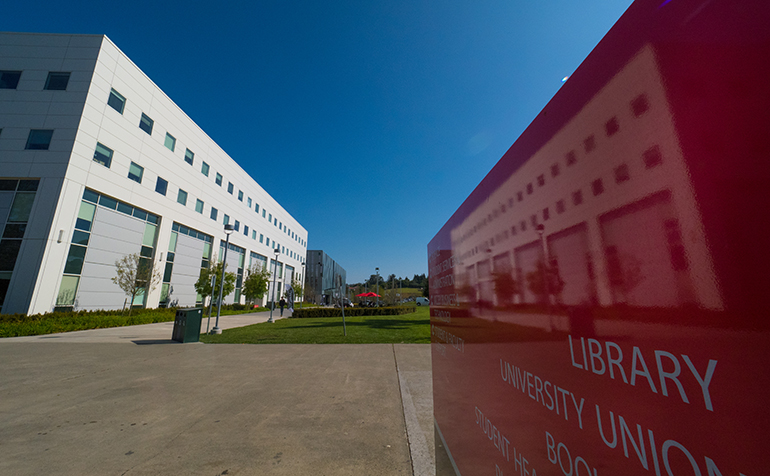 Simon Edelhaus (M.B.A. '17) jokingly quotes the Beach Boys' song, "Be True to Your School" when talking about the value he places on supporting his alma mater. But his support has seriously helped Cal State East Bay students gain the skills needed to be competitive in Silicon Valley. 
Edelhaus came to the university mid-career to obtain a M.B.A while also serving as vice president of software engineering and validation at Aquantia, a manufacturer of high-speed transceivers. While at Cal State East Bay, he met computer engineering professors who shared his professional interests. 
"Dr. James Tandon and Dr. Roger Doering speak the language of Silicon Valley," Edelhaus said. "Once I met undergraduate students, I saw how motivated they are and I wanted to be involved." 
Before Edelhaus completed his graduate degree, he established the Edelhaus Senior Design Project Award. The award is in the name of his grandfather, Abraham Edelhaus, and honors the undergraduate student with the most promising computer engineering senior capstone project. He also began hiring Cal State East Bay undergraduate students as interns and employees. 
Edelhaus is now vice president of software and validation engineering at Marvell, which develops and produces data infrastructure technology. He is constantly exposed to new ideas in his field and in the broader innovation economy. 
Edelhaus had an idea for a product that could meet a need during the pandemic and perhaps come to market. He decided to sponsor a senior capstone project team to work on it, thereby ensuring the team had enough supplies, including printed circuit boards (PCBs). PCBs are boards that connect electronic components and are an integral part of the electronics we use in our everyday lives. 
In addition to providing financial support to the capstone project team, Edelhaus joined Tandon in coaching them. 
"Because Edelhaus is such a dedicated engineering manager, the students were able to experience a real industry project as part of their education prior to graduation," Tandon said. 
The project was ambitious and not at all easy. The team encountered technical challenges, as well as pandemic-related issues that stalled progress for a time. In the end, the team came up with an interesting design but, as often happens in the real world, other obstacles stood in the way of bringing the product to market.
Still, this senior capstone project was an important experience. 
"It was very helpful to be mentored by someone in the industry who brought in that perspective," said team member Kyle Pjesky (B.S. '21, Computer Engineering). "I treated the project like a job, and like a job, I hyper focused on our goal." 
In fact, Edelhaus was so impressed with Pjesky and his work that he helped Pjesky get hired as a hardware and silicon validation engineer at Marvell. 
"It can be tough for a new graduate without connections," Pjesky said. "Without Edelhaus, I would probably be in a different situation. Meeting him through the capstone project was pivotal for me." 
Edelhaus said it was fun to collaborate with young, ambitious students who wanted to get exposure to new technologies and learn real world techniques and methods. 
"It is our responsibility as alumni and industry leaders to promote such projects and provide proven experience to Cal State East Bay academia and graduates," he said.