About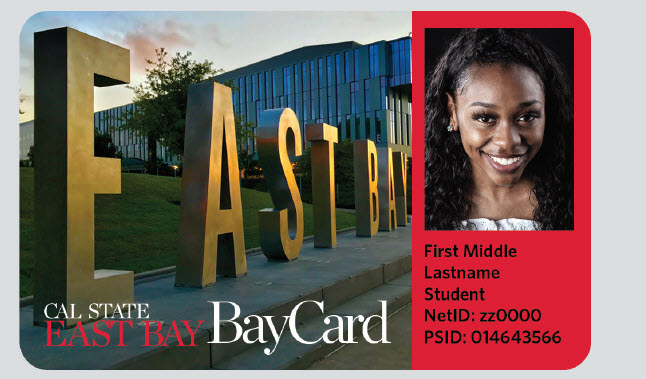 What is the Bay Card?
The Bay Card is Cal State East Bay's campus ID card for employees and students. It identifies someone as a member of the Cal State  East Bay community and can be used for a variety of activities on campus.
In addition to being your primary form of identification on campus, it is also your campus library card. It can be used to check out equipment in various departments and shown for entry at campus events.
Location: Student Services & Administration Building (SA) Lobby
Email: baycard@csueastbay.edu
Phone: 510-885-CARD(2273)
Hours: Monday-Thursday 9:00am - 5:00pm; Friday 9:00am - 4:30pm
Photo Station Locations:
Hayward Campus - University Library 1st Floor
Concord Campus - Academic Services Building Lobby
Lassen Hall - Student Housing Residents Only
How To:
If your card is lost or stolen, it is imperative to cancel it immediately. Log in to the Bay Bucks website and report it, even if you don't have Bay Bucks on your card. Click here to learn how to deactivate your Bay Card.
Reporting your card lost or stolen immediately helps ensure any Bay Bucks you have in your account are protected.
Please visit the Bay Card staff in the University Library to obtain a replacement card. Be prepared to show your police report if you reported the card stolen, otherwise, there will be a $10 charge to replace a lost card. If a police report is filed indicating the card was stolen, this fee is not applicable.
Student Housing Students and Employees
Bay Cards for Pioneer Heights students and employees contain additional coding in order to access door locks. Please report your lost Bay Card to the Student Housing Office.
Guest cards are to be used by patrons of the Library and the campus that do not possess a Bay Card. Guest cards are primarily for use at the University's Library but can also be used where Bay Bucks are accepted.  Students, Staff, and Faculty are expected to use their Bay Card to use services at the Library. 
Guest cards will be available at both Hayward and Concord campuses. Guest cards will be $1.00 per each card.
Hayward Campus
Guest cards will be purchased from the WavePoint machine located by the Learning Commons.
Guests cards are purchased by patrons at $1 per card.
Balances are considered inactive if 12 months of no activity.
Guest cards can only be purchased with cash at WavePoint machine.
Patrons use WavePoint machine to reload Bay Bucks onto the guest card
There is no way to transfer funds between guest card and Bay Card
Concord Campus
Guest cards will be purchased at the Concord Cashiers Office.
Guest cards are $5.00 each

$1.00 for guest card and $4.00 worth of Bay Bucks preloaded

Funds are non-refundable and cannot be combined or purchased in larger denominations.