IELTS
What is the IELTS?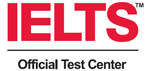 IELTS, the International English Language Testing System, is an English proficiency test designed to assess the language ability of people who need to study or work where English is the language of communication.
IELTS is recognized by universities, such as California State University, East Bay, professional bodies, immigration authorities and other government agencies as a demonstration of English proficiency.
California State University, East Bay is an official IELTS Test Center and offers the test on campus at least once a month.
Please review the IELTS Information for Candidates booklet. You may visit IELTS for additional information.
It is the responsibility of the test taker to determine which test to take (Academic or General Training)  Please visit the IELTS Tests for more information about the two types of IELTS tests.
To submit an application for an IELTS exam at CSU East Bay please visit IELTS Registration at CSUEB.
SIGN UP to receive exclusive IELTS USA prep materials today!   
Office Hours
Monday-Thursday: 9:00 AM - 3:00 PM
Friday: 9:00 AM - 12:00 PM
Please allow 48 hours for response on all inquiries.
Contact Us
American Language Program
California State University, East Bay
25800 Carlos Bee Blvd
SF 102
Hayward, CA 94542