Activities & Events
Spring Semester Events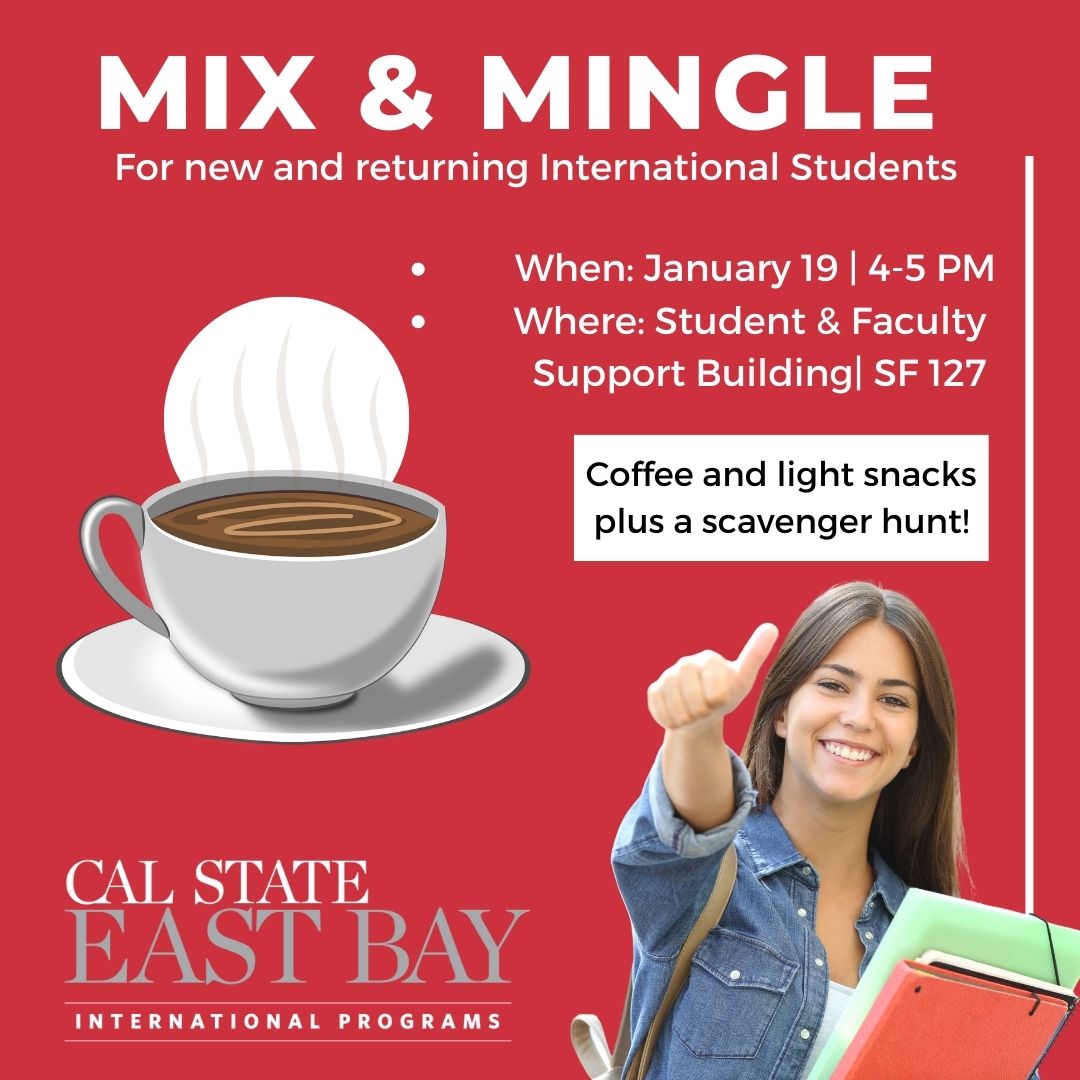 Mix and Mingle
Sign up: https://forms.gle/PCPmZWBFGyeh5HJf7
This is a chance to meet our staff and find answers to your questions and then also network with current students and new students like you. Snacks are provided.
Time: 4 to 5:00 pm
Location: SF 127
Date: Jan 19, 2023
Lunar New Year celebration
This event will take place in Campus Housing at the Quad which is next to Lassen Hall Housing Office.There will be hands-on activities, performances, music and treats while supplies last. Everyone is welcome to experience and join this celebration!
Time: 3 to 5:00 pm
Location: Lassen Hall Quad (Housing)
Date: Jan 20, 2023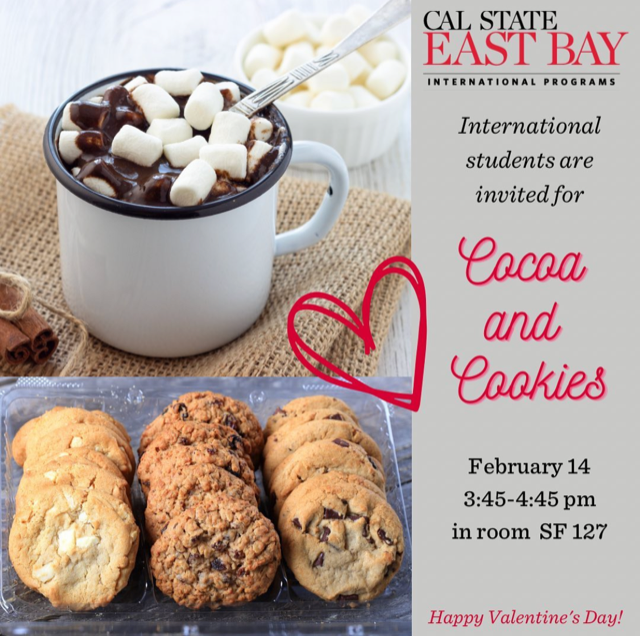 Valentine's Day
Take a breather, come relax and connect with other students, have a cookie and some hot cocoa.
Time: 3:45 pm to 4:45 pm
Location: SF 127
Date: Feb 14th, 2023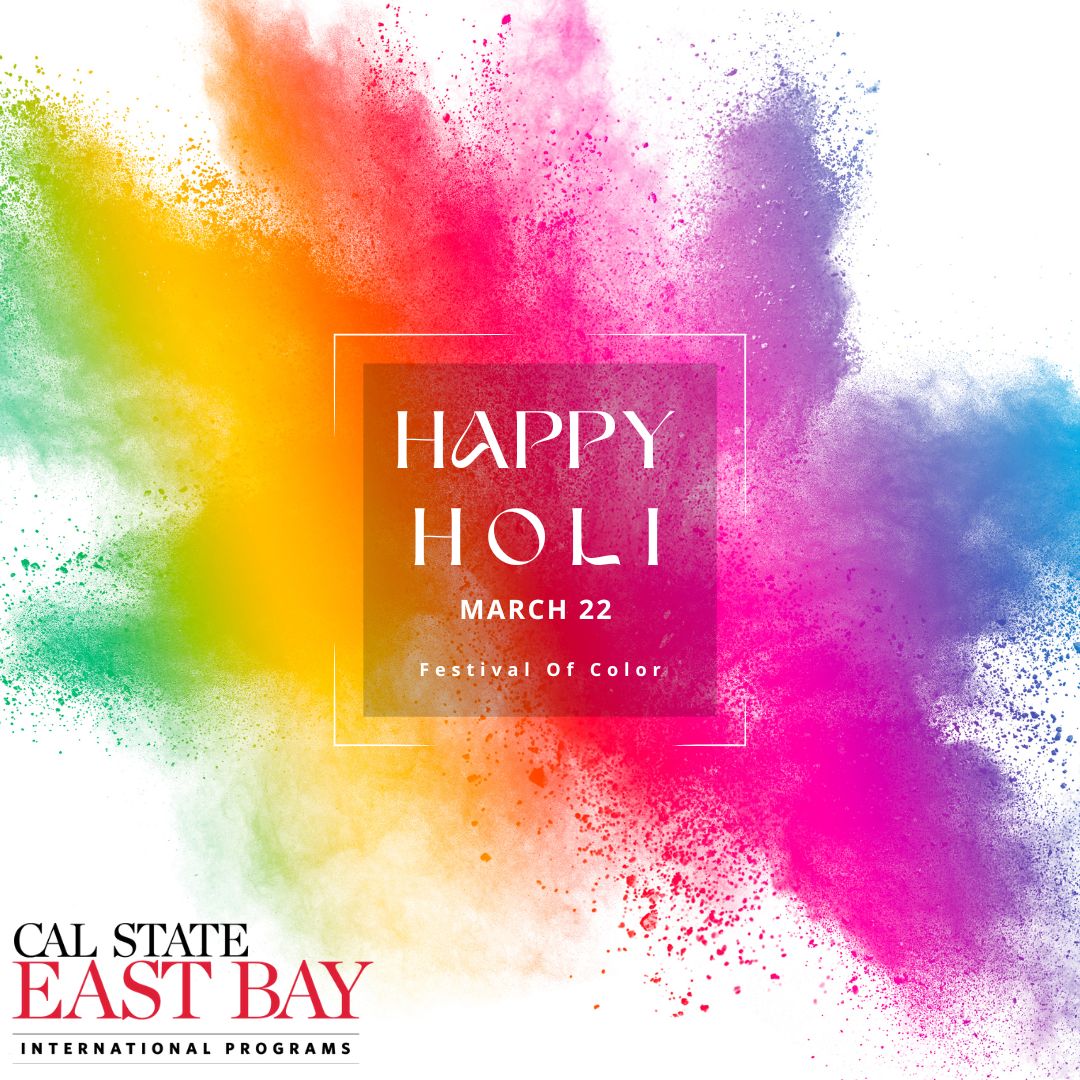 Hindu New Year
TBD: Wait for the up & coming exciting news. We are collaborating with Theater & Dance Department and Hindu Yuva Association in a festival for all to enjoy! So stay tuned!
Ramadan Oasis
In observance of Ramadan, we have allotted a space for fasting Muslim students to come and share a quiet space while waiting for your next class to start.
Time: 11:00 am to 2:00 pm
Location: VBT 135
Date: Mar 22 to April 23, 2023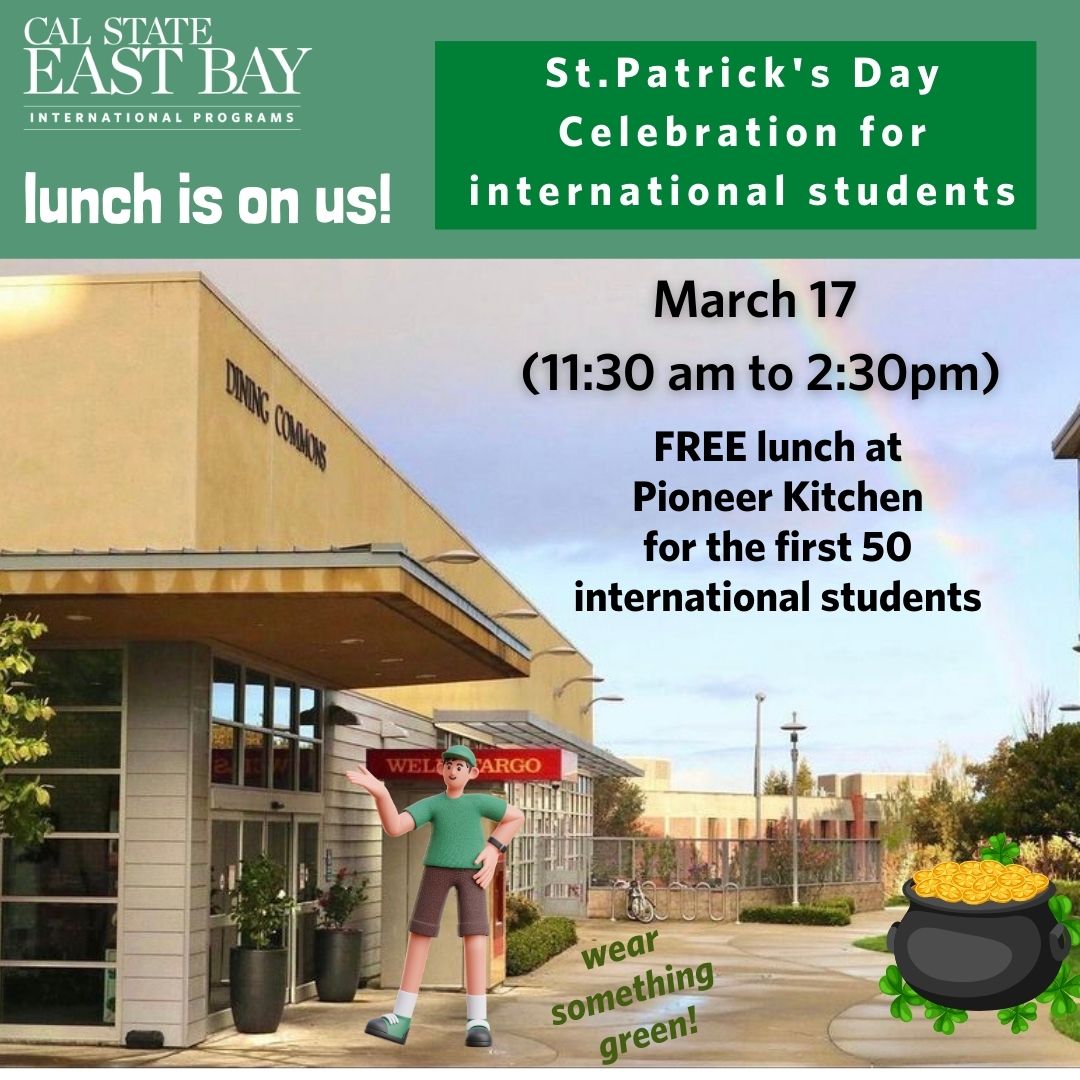 St. Patrick's Day Celebration
Happy St. Patrick's Day!
Come celebrate it with us. First 50 students wearing something GREEN get FREE lunch at Pioneer Kitchen.
Time: 11:30 am till the first 50 gets in!
Location: Pioneer Kitchen
Date: March 17, 2023
End of Spring Semester Celebration
Make Your Own Tacos!
Come to SF 127 and customize your own personal tacos. 
Time: 3 to 4:00pm
Location: SF 127
Date: May 4, 2023
Spring Workshops & Seminars
Healthcare/insurance seminar
Your health insurance: Do you know how to use it? Do you know where to go for services? Do not wait; let us show you how to be ready in case you may need to use it. Besides, getting your own services, we will also discuss what our Student Health Center can do for you.

Location: Via Zoom : https://csueb.zoom.us/j/86187348316
Date: Jan 23, Jan 24
Time: 10 to 11:00 am
Date: Jan 25
Time: 4 to 5:00 pm
Date: Jan 26
Time: 3:30 to 4:30 pm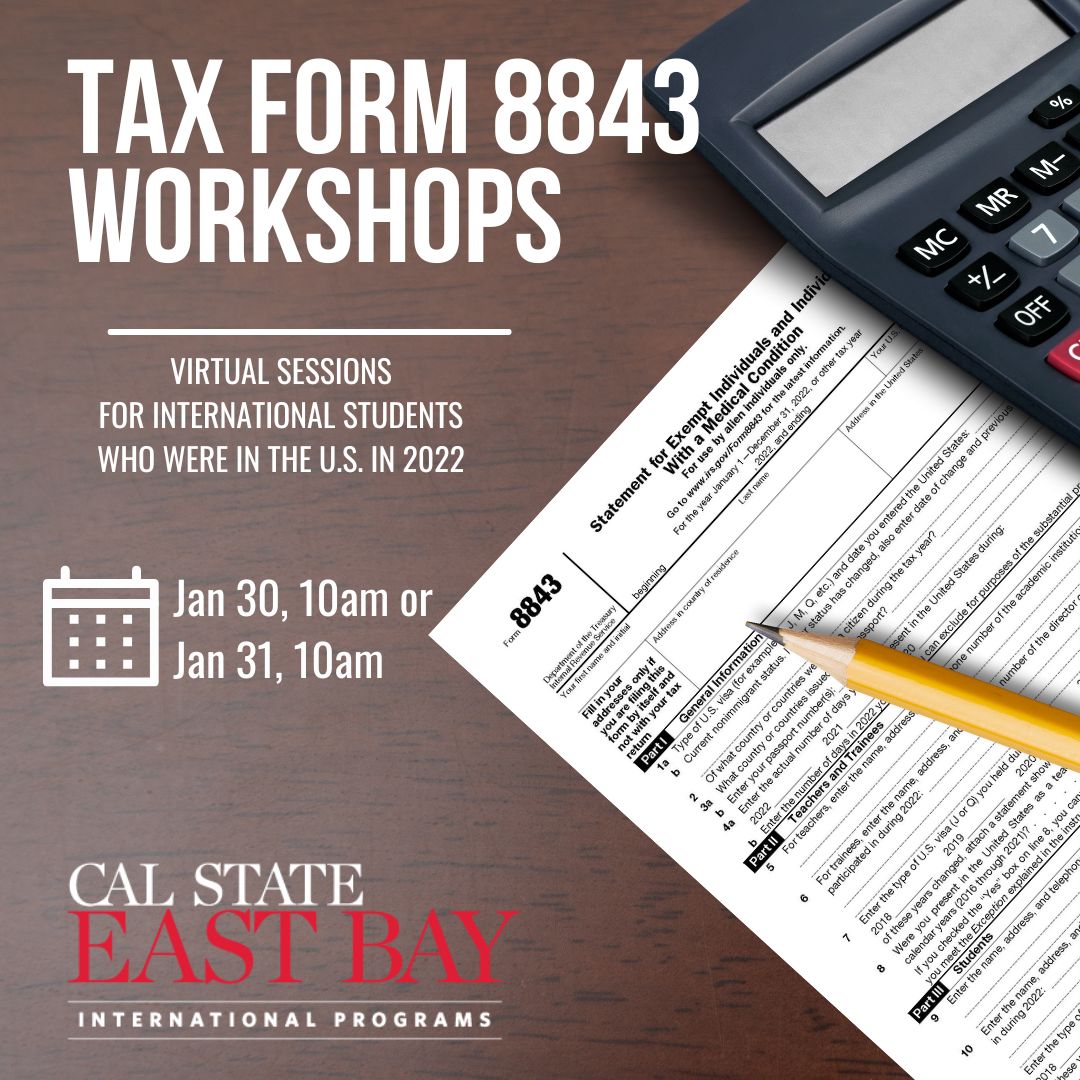 Form 8843
This workshop is for ALL international students who are here in the US in 2022. You will need to fill in and send in this form regardless of your income status. Please have your computer or laptop ready when attending this workshop. We will fill in the form together. Deadline for submission of this form to the IRS is April 18, 2023. So make sure you attend this workshop.
Location; Via Zoom : https://csueb.zoom.us/j/83419582632
Date Jan 30, Jan 31
Time: 10 to 11:00 am


On Campus Events
BaySync
Events hosted by ASI and other organizations can be found via the BaySync.
ASI
ASI Presents Upcoming Events
Alumni Events
 Alumni Events hosted by the Alumni Association 
Music Department
Check out performances from the Music Department
Library Events & Exhibits
Events hosted by the Library 
Recreation and Wellness Services (RAW)
Variety of events hosted by RAW
International Programs Activities Calendar
Spring, 2022 Activities Calendar