Faculty
Faculty Details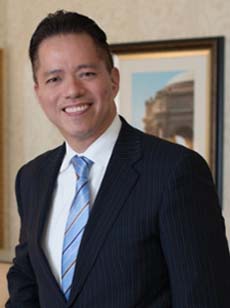 James Lim
A seasoned hotel operator of over 25 years, James Lim is currently the General Manager of the luxury, 4-star/4-diamond Omni Hotel.  Omni is currently the #2 out of 233 hotels in San Francisco on Tripadvisor and this year's proud recipient of the 13th annual San Francisco Hotel Heroes' Community Spirit Award.
A servant leader that is highly motivated and skilled professional, James Lim has a reputation for driving turnaround to profitability for ailing properties by implementing innovative strategies for improving service, employee satisfaction, RevPar performance and profitability.
Prior to Omni, James was the Area Managing Director for Commune Hotels + Resorts, overseeing six of the Joie de Vivre hotels in the San Francisco region managing over 35M in annual revenues.  James also assisted in task force and transitions for Commune in Honolulu, Hawaii. James was part of the pre-opening team of the 170M dollar renovated, Palace Hotel, a Starwood Luxury hotel.  He started his career as a dish washer at TGIF restaurant and as a relief night auditor at the Marriott Marquis.
In tourism, James served as the Chairperson at Visit Berkeley and is currently the board member of SF Travel and its Tourism Council.  He also serves the board of San Francisco Hotel Council, co-chair of Hotel Hero Awards, and heads the Marketing Committee of the Hotel Council.
James Lim graduated Magna Cum Laude with a B.S. degree in Hotel, Restaurant and Tourism Management and worked on his MBA in Marketing while teaching part-time at Golden Gate University.  He completed a Certificate of Hotel Management Finance at Cornell University.
Originally a computer science major, James completed his A.A. in Business Information Systems at Skyline College.
James has been happily married for 18 years and have three children and an English Bulldog named, Bubba.  James enjoys exploring the world with his family, dining out, and photography.