About
What is and Why KIN?
Kinesiology is a unique academic discipline.  The core subjects that make up kinesiology cover the breadth of academic disciplines including anatomy, biomechanics, biochemistry, history, sociology, psychology, physiology, and philosophy.  Kinesiology straddles every discipline from the arts to the humanities to the sciences.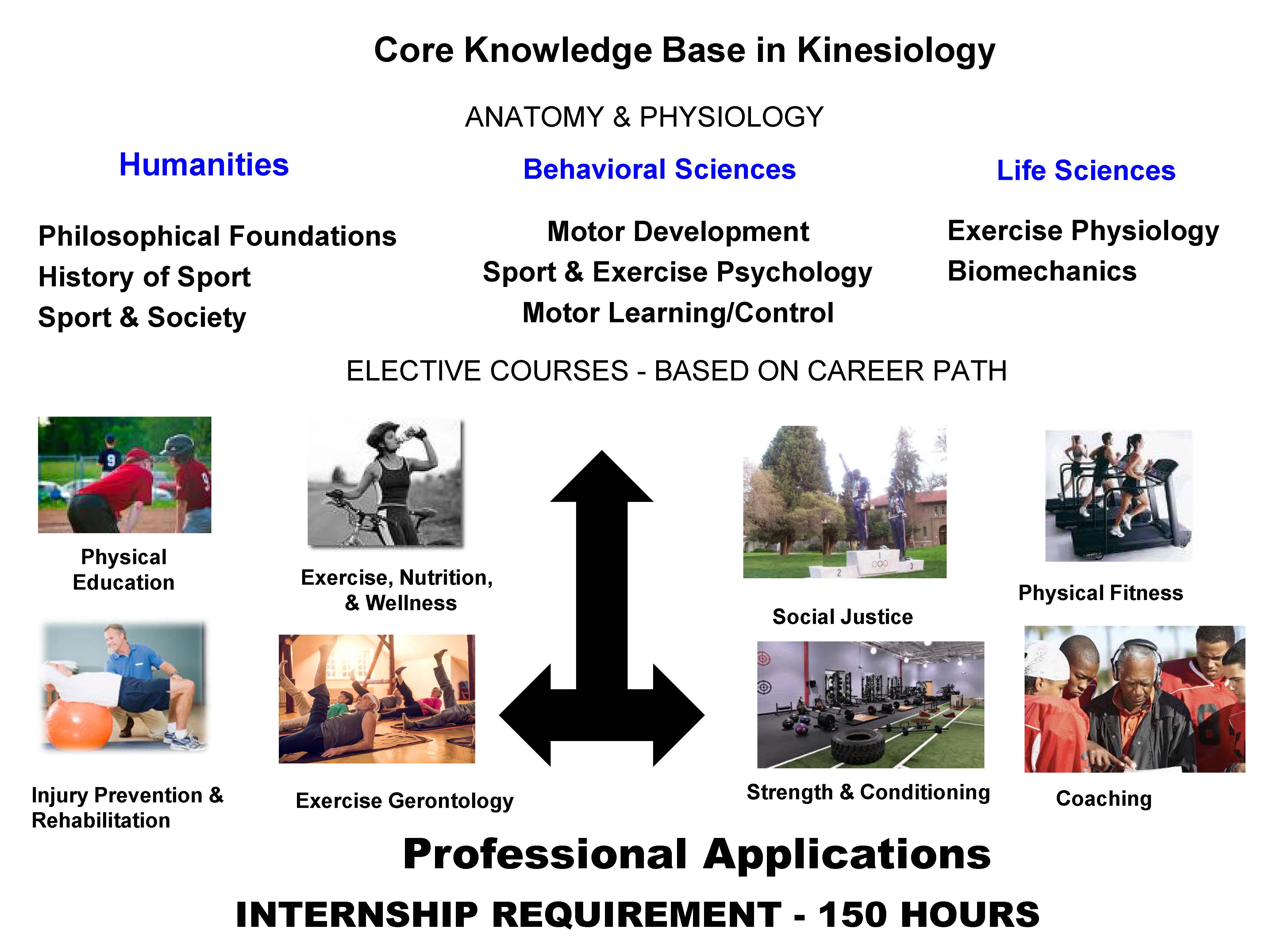 The concepts, skill sets, and practical experiences students acquire as kinesiology graduates are aligned with the skills and experiences employers are looking for both within the field of kinesiology and beyond.  Kinesiology students learn critical thinking skills, information technology skills, and literacy and numeracy skills that have broad applicability to 'real' life.
As a discipline Kinesiology is also unique in that it is by nature an applied profession with a strong focus on the application of theory.  A key element is evidence-based practice and the need for critical clinical thinking skills to diagnose and intervene.  The core of the discipline, physical activity, is fundamental to lifelong well-being, and impacts economic markers such as health care costs and work productivity.  The World Health Organization, as well as entities such as Center for Disease Control, identifies physical activity as a critical cultural and societal component.
Because of its centrality, Kinesiology is a powerful medium to enact social change.  Students learn to appreciate how physical activity can be a catalyst to addressing a wide array of social issues.  Through the physical education focus students learn the concepts and methods to teach students the value and importance of being physically active.  Through the Social Justice focus students learn about advocacy and how to be culturally competent.   Through the Wellness focus students acquire the skills to intervene to improve health and well-being through appropriate exercise and good nutrition.   Through physical activity we can develop the skills needed to promote personal and social responsibility. 
KIN at EB:  Cal State East Bay serves a diverse student population.  In Kinesiology we are committed to engaging all our students and preparing them to succeed.  Our values are:
Student-centered.
Evidence-based practice.
Comprehensive discipline-based and transferable skills and knowledge.
Dedicated and committed faculty and staff.
Relevant, interesting, and contemporary programs of study.
Commitment to professional service.
We have a very strong regional presence with a wide array of partnerships with schools and organizations focused on physical activity, health and well-being.  We also have a very large network of internship partners to support our requirement that all Kinesiology graduates have professional field experience before graduating.
Currently the department had fifteen tenure-track faculty, 28 part-time faculty, and 8 staff.  Faculty are recognized internationally, nationally and regionally for their teaching, research and professional service.  There are about 850 undergraduate majors and 50 graduate students.  Our undergraduate and graduate students are regularly honored by the university and by national Professional Associations. In addition to the major we offer a range of General Education classes and an extensive physical activity program. We have active and engaged student clubs that provide peer mentoring and professional networking and opportunities to develop research and practice skills valued by employers and graduate school programs.
The department has an enviable reputation for the quality of its graduates and its programs have been highly commended.  Our graduates are in demand by employers throughput the region in public schools, fitness industry and the allied health professions.  Our graduates are competitive on application for graduate school.