Annual Jazz Festival
36th Annual Cal State East Bay Jazz Festival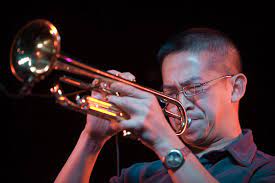 The 36th Annual Cal State East Bay Jazz Festival will take place April 14-15, 2023, with special guest Cuong Vu, trumpet!
Local high school and college jazz bands will be invited to participate in a non-competitive Festival on Saturday, April 15, preceded by an evening concert with the East Bay Jazz Orchestra on Friday, April 14.
Click here for more information on our guest artist Cuong Vu.
Festival Schedule
Friday, April 14:
Concert performance featuring Cuong Vu, trumpet, and the East Bay Jazz Orchestra - Dann Zinn, director.
7:30pm · University Theatre · $15 general admission · Purchase tickets here
Saturday, April 15:
Participating band performances and clinics.
9am-4pm · University Theatre · Free and open to the public
Details for Jazz Festival Participants and Directors
Each participating band has a 1/2 hour warmup time followed by a one-hour time slot at their performance site. That hour can be used any way the director wants, and is most helpfully worked out where your band plays for 20-25 minutes their planned set (usually 3 tunes). During that time, the adjudicators will be sitting in the audience area speaking their comments into a recorder. When the band's set is done, the remaining time is used for the interactive clinic with the adjudicators who will be demonstrating "playing with the band" the concepts they wish to convey.
Equipment
Provided Instruments at the Performance Venues
Please help us keep track of the equipment. Below is a list of equipment that will be provided at each performance site.
One piano
Vibraphone
One bass amplifier
One guitar amplifier
Two solo microphones
One drumset consisting of:

Bass drum
Toms
Snare stand (stand only)
Two cymbal stands (stands only)
One hi-hat stand with clutch provided (stand only; please use the clutch provided)
One throne
Drummers are responsible for bringing their own bass drum pedal, cymbals, additional cymbal stands, snare drum, hi-hat cymbals (please use the hi hat clutch provided), sticks, mallets and brushes, etc.
Warm-up Rooms
There will be no drums or amplifiers in the warm-up rooms.
Parking
Parking is free at CSU East Bay after 5pm on Friday and all day Saturday. Park in Lot L or K for nearest access to the University Theatre and Music Building.
Bus parking is in Lot H or along East Loop Road. Drop off in Lot K near the Theatre, then park in the rear of Lot H or along East Loop Road. No permit is required for bus parking.
See the CSUEB Hayward Hills Campus Map for directions and permit dispensers locations.