Healing the Trauma of Racism Altar Project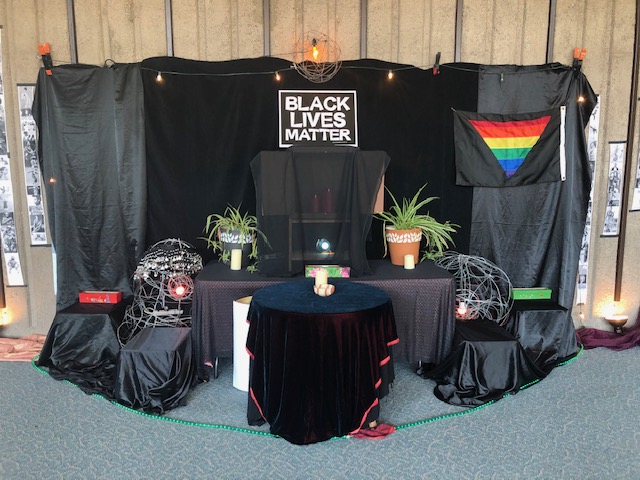 The CSUEB Departments of Social Work and Theatre & Dance, along with faculty and students across campus, are collaborating on a "Healing the Trauma of Racism" altar in our University Theatre Lobby.
We envision this as a community project that is added to by diverse contributors across campus throughout the year, and can serve as a focal point for healing and learning about the effects of racism on all of our bodies, minds, and spirits.
We invite submissions from the community of images, poetry, writing, photos, sacred objects, protest signs, and anything else that you want to contribute. A longer description of the altar project is listed below.
Submissions of material for the altar can come through electronic submission, mail, and/or by people who are coming to campus throughout the semester.
We will follow university guidelines for making sure the process of contributing to the altar is safe and does not spread the coronavirus.
This altar-installation will be visible at all times through the glass doors of the theatre lobby. We will also photograph and video the altar to make it available online.
You can send all materials to:
catherine.cyr@csueastbay.edu
or
CSUEB Healing Altar Committee
c/o Theatre and Dance Dept.
25800 Carlos Bee Blvd.
Hayward, CA 94542
For more info contact: eric.kupers@csueastbay.edu
What is the Healing the Trauma of Racism Altar?
The Departments of Social Work and Theatre & Dance are proposing the collaborative creation of an altar/installation dedicated to Healing the Trauma of Racism. We envision this as a project that students and faculty in our two departments will start, that can then be added to throughout the fall semester by students, faculty, staff, and community members across campus.

We would like the altar to be a creative site focusing on healing historical, intergenerational, persistent institutional, family, and personal trauma caused by racism. People can contribute images, meaningful objects, stories, poems, and other items, that address any of these themes:

1. Say Their Names: honoring the memory of Black, Indigenous, and People of Color killed by the police and white supremacists in the last two decades (or more);

2. Ancestral Healing: Connecting to our diverse ancestral lineages for rituals, stories, practices, and other healing elements;

3. Intersectionality: Exploring the intersectional webs of oppression, identity, and social justice activism;

4. Planting Seeds for a World Free of Racism: How do we envision a world without racism? What kinds of inclusive community structures do we dream of? How do we get there?

5. Loving and Inhabiting our Bodies: Making space for the unique body each of us lives in (the only one exactly like this, ever in the universe, throughout time.) How can we honor all of our emotional, spiritual, energetic, and physical experiences of racism, trauma, healing, and renewal from within our own bodies? How can we embody social justice now? How can we respect the inherent value and dignity of all bodies--and especially those very different from our own?

We envision a "world premiere" of the first cycle of the altar-installation to take place in conjunction with the opening of the Theatre and Dance Department's fall play, Blood at the Root, which addresses racism and trauma.

The initial ideas for this project are fairly open, so there is lots of room for new ideas and collaboration, as well as connection to fall semester coursework.