KCACTF 2019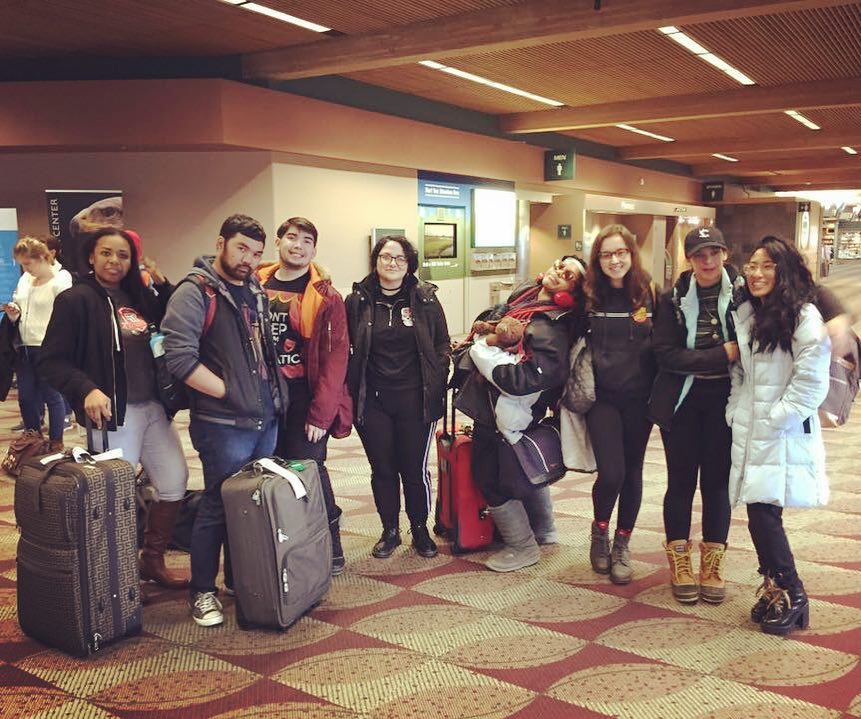 (From Left to Right: Jasmine Bester, Patrick Garrucho, Richard Nguyen, Brizeida Garcia, Mikki Johnson, Isabelle Marseline, Shelby Broadnax and Sarah Maderal.)
The week of February 17-22, 2019, our students traveled to Eugene, Oregon and presented their work in Acting, Design and Technical Theater, competing against other University and College students that make up Region 7. Region 7 is made up of students from the West Coast and Plains region of the U.S.
Out of our majors, ten students participated in the 2019 Region 7 KCACTF. Those students were: Jasmine Bester (Acting), Shelby Broadnax (Acting), Brizeida Garcia (Scenic Design), Patrick Garrucho (Acting), Amanda Guiterrez (Stage Management) , Jasmine "Mikki" Johnson (Acting), Sara Maderal (Acting), Isabella Marseline (Acting), Richard Nguyen (Acting), Bethany Zummo (Costume Design).
Out of our ten majors, four students were recognized by their talents and skills at the 2019 Festival.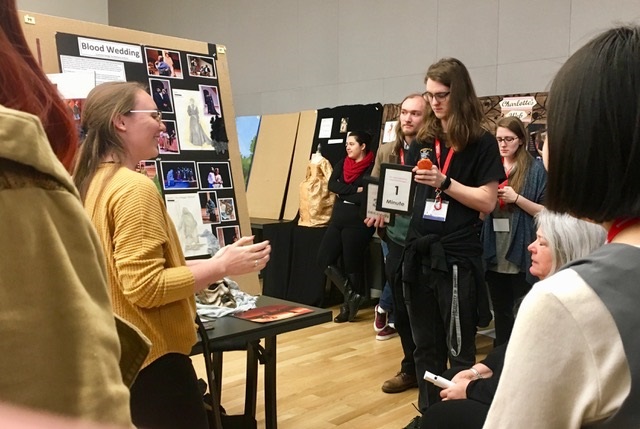 (Pictured: Bethany Zummo in yellow, presenting.) 
Theatre Major, Bethany Zummo won the National Award for Design Excellence in Costume Design for her designs of
Blood Wedding
. She will go forward and advance to compete against other Regional Winners at the National Festival at the Kennedy Center in Washington D.C. in April 2019!
Bethany is the third Technical Theater major to advance to the National Festival in the past six years!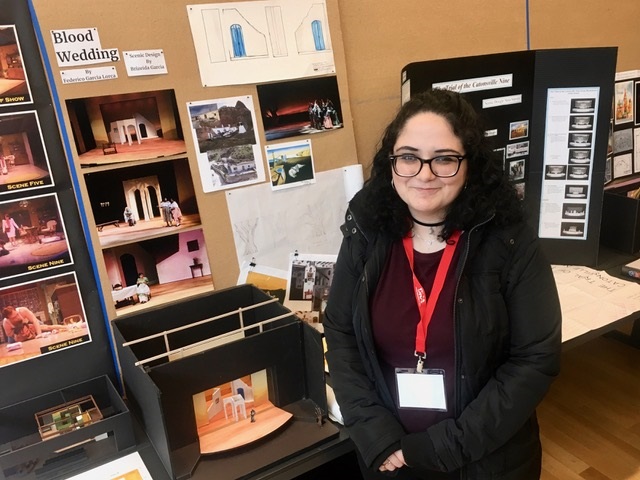 (Pictured: Brizeida Garcia)
Theatre Major, Brizeida Garcia won the Meritorious Achievement Award in Scenic Design for Blood Wedding.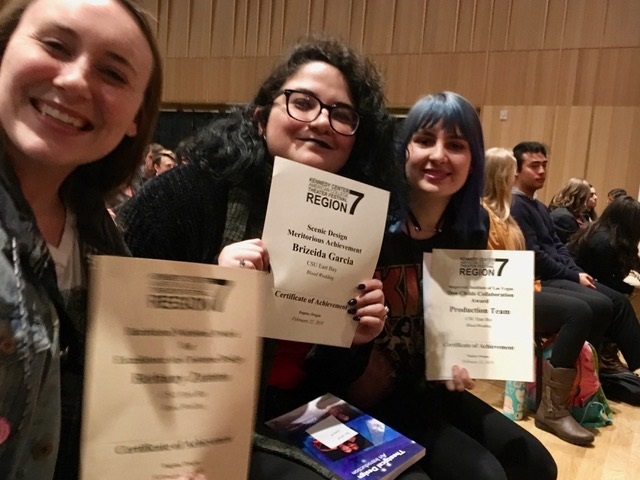 (Pictured from Left to Right, Bethany Zummo, Brizeida Garcia, and Amanda Guiterrez.)
The Blood Wedding production team, consisting of majors Brizeida Garcia, Bethany Zummo and Amanda Guiterrez, won the Don Childs Collaboration Award as a group.
This is the second year in a row a production team from CSUEB won the Don Childs Collaboration Award!
Last year our production team for CSU Ferguson also won the award. All three of the ladies will each receive a week-long scholarship to the Las Vegas Institute of Theatre Technology this summer in Las Vegas, Nevada.
(Pictured: Jasmine Bester)
In addition, one of our majors with an Acting focus, Jasmine Bester, won a full scholarship to attend a class at Cal Arts for their annual summer program!
All 10 of our students did an amazing job presenting their work and the entire faculty and staff of the CSUEB Theatre and Dance Department are EXTREMELY proud of their work and effort.