Peer Academic Coaching
Welcome to Peer Academic Coaching!
At Peer Academic Coaching we're here to help you make a smooth transition to CSU East Bay. College is a whole new world and sometimes it can be overwhelming and confusing. Our Peer Academic Coaches are here to help! Think of them like your older sibling/cousin/friend who goes to East Bay and can help you feel at home. Coaches can work with you to help you navigate your academics and get the most out of your college experience. Coaches are students, too so they get it and they're here to help you succeed! But don't take our word for it - we asked students who've tried coaching if they would recommend it. Here's what they had to say: 
"Do it! Coaching is your best bet to make your first year of college easier and less stressful."
"Do it because having someone else's support wouldn't hurt but it will benefit you because you will see that not only their family wants you to succeed but others also do....Your grades will also go up. It's just a great experience."
"It is totally worth it! And very helpful to do good in your semester."
"I would defiantly recommend it to anybody. Coaching has really helped me be able to manage my time wisely and get my work done." 
"I would recommend to at least attend the first session - its always good to talk to folks about your struggles. I wish I started sooner." 
Want to hear what other students have to say? Check out How Coaching Works.
Hours during Spring Semester
Drop in Hours at the SCAA: M 9am-11am, T 3pm-5pm, W 2pm-4pm, Th 3pm-5pm 
We will be closed during all university holidays and breaks.
Our Virtual Office Hours Are Mon-Thurs, 9am-5pm and Friday 12pm-3pm
To visit our Virtual Office on Zoom during office hours - JOIN HERE.
For Fall 2023, Peer Academic Coaching will be offering services both IN PERSON at the SCAA and ONLINE - just let us know what's best for you!
For any other questions, please reach out to our office staff at peeracademiccoach@csueastbay.edu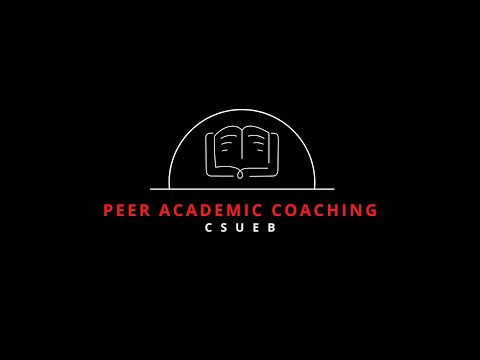 PAC Study Tips!
Key Study Tips
Quiz yourself! Retrival practice is key to memory - if you're not self-testing, you're not studying.
Mix it up! Professors won't test you in order - mix things up to make sure you know them out of order.
Space things out! When you give yourself time to forget and come back you create more long term memory.
"Embrace the change, take risks, and seek help; you don't have to go through college alone."

- Raevin

"Embrace your weaknesses and learn from them! Your weaknesses are your strengths and make you who you are! "

- Josh

"Make the most use of the amazing on-campus resources there are because you don't have to struggle on your own. "

- Marisol

"Get involved on campus! Even if you feel overwhelmed with the whole "college experienced", you will make amazing friends through clubs and organizations on campus, and it will make East Bay feel like home."

- Erin

"Don't be afraid to ask. The worst thing to regret is not asking a question. Maybe someone else has the same question. Help yourself and others."

- Adriana

"Everyone is at their own pace, so try not to compare yourself to others. Also, be nice to yourself. We're a lot harder on ourselves than we are to other people. "

- Angeline

"You will eventually find your place. That college is a place of new experiences and you'll grow in so many ways, take advantage and step out your comfort zone."

- Lemlem
Contact Us
Peer Academic Coaching at the SCAA
25800 Carlos Bee Blvd
CORE 343
Hayward, CA 94542