Spring 2022 Event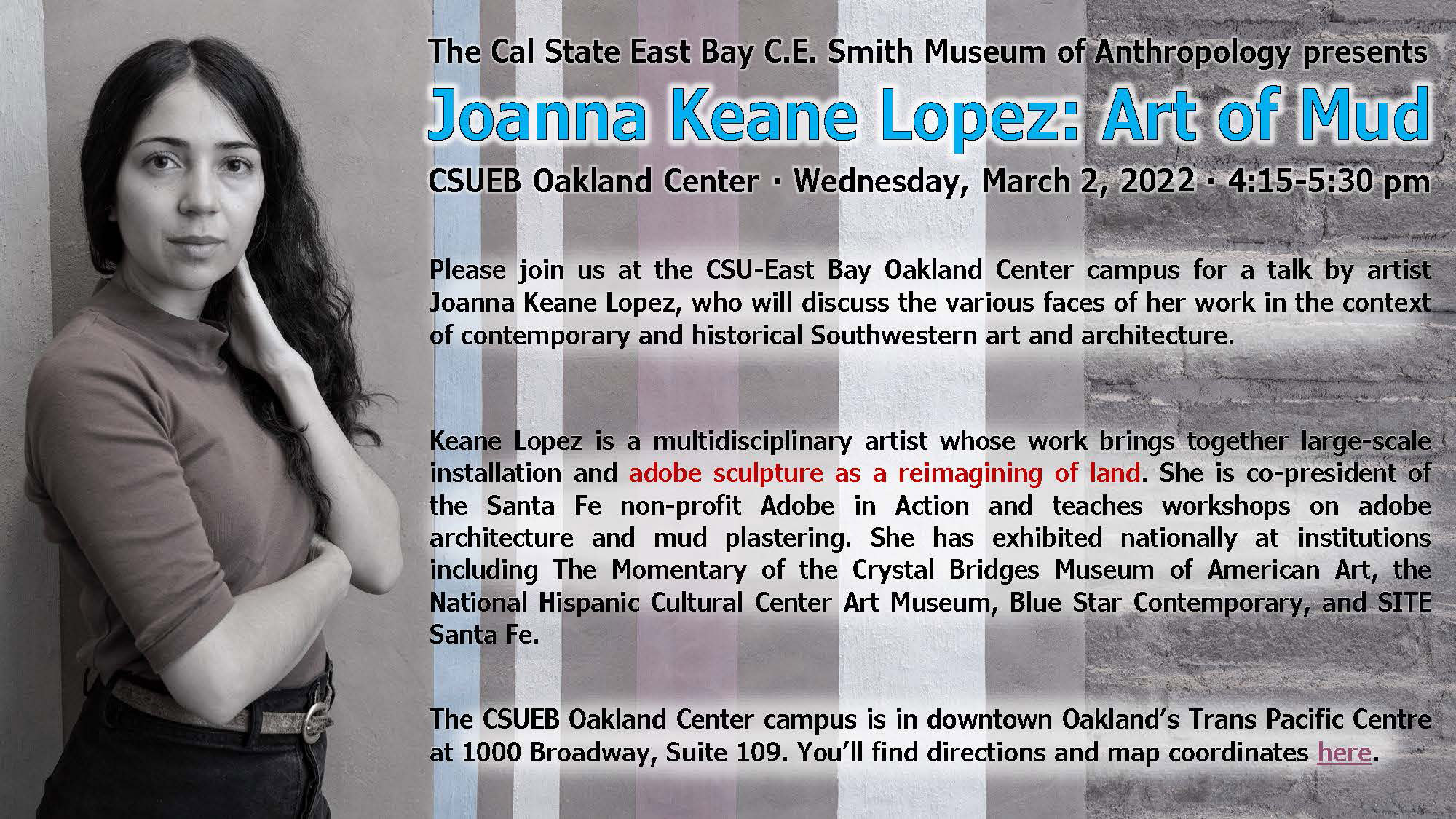 Wednesday, March 2, 2022
4:15 - 5:30 pm
CSUEB Oakland Center campus
Admission is free
Open to the public
The C.E. Smith Museum of Anthropology is pleased to host adobe (mud brick) artist and traditional construction specialist 
Joanna Keane Lopez
as she serves as foreperson of the construction for two experimental adobe ovens, one of which will be constructed at the CSUEB Concord campus and the other at UC Berkeley. 
She's taking a break from that work to do a talk for CSUEB and UC-Berkeley students and faculty at the CSUEB Oakland Center campus on Wednesday, March 2 at 4:15 pm.  There she will discuss the various facets of her work in the context of contemporary and historical Southwestern art, architecture, and environment.
  We hope you'll join us on the 2nd for what promises to be a very exciting event. 
Admission is free, snacks and drinks will be provided, and the event is open to the public
.  The talk will not be live-streamed, but it will be recorded and posted on the museum's events web page a few weeks after the event takes place (link to come). Hope to see you there!
Location
: The CSUEB Oakland Center is in downtown Oakland's Trans Pacific Centre at 1000 Broadway, Suite 109, a short walk from BART's Oakland City Center / 12th Street station. You'll find more precise directions and map coordinates
here
.
About the artist: Joanna Keane Lopez is a multidisciplinary artist whose work brings together large-scale installation and adobe sculpture as a reimagining of land. She is co-president of the Santa Fe non-profit Adobe in Action and teaches workshops on adobe architecture and mud plastering. She has exhibited nationally at institutions including The Momentary of the Crystal Bridges Museum of American Art, the National Hispanic Cultural Center Art Museum, Blue Star Contemporary, and SITE Santa Fe. 
Related press: