CA-CCo-312, The Easton Site
LOCATION
CA-CCo-312 is located in a valley on the north side of Mt. Diablo in Contra Costa County. Two creeks flow through the site which consists of a shallow midden.
FIELDWORK
The site was first excavated in 1968 by San Francisco State University and subsequently by CSUEB in the spring and fall of 1969. A total of 25 sub-surface units were excavated by the two schools, six by SFSU and 19 by CSUEB. The CSUEB excavations were conducted under the supervision of Dr. C. E. Smith.
CHRONOLOGY
Late phase I to early phase II of the Late Period of California prehistory (ca. A.D. 476-1649). Dating is based on obsidian hydration and artifact typologies (clam shell disc beads and small serrated projectile points). No radiocarbon dating of the site was performed.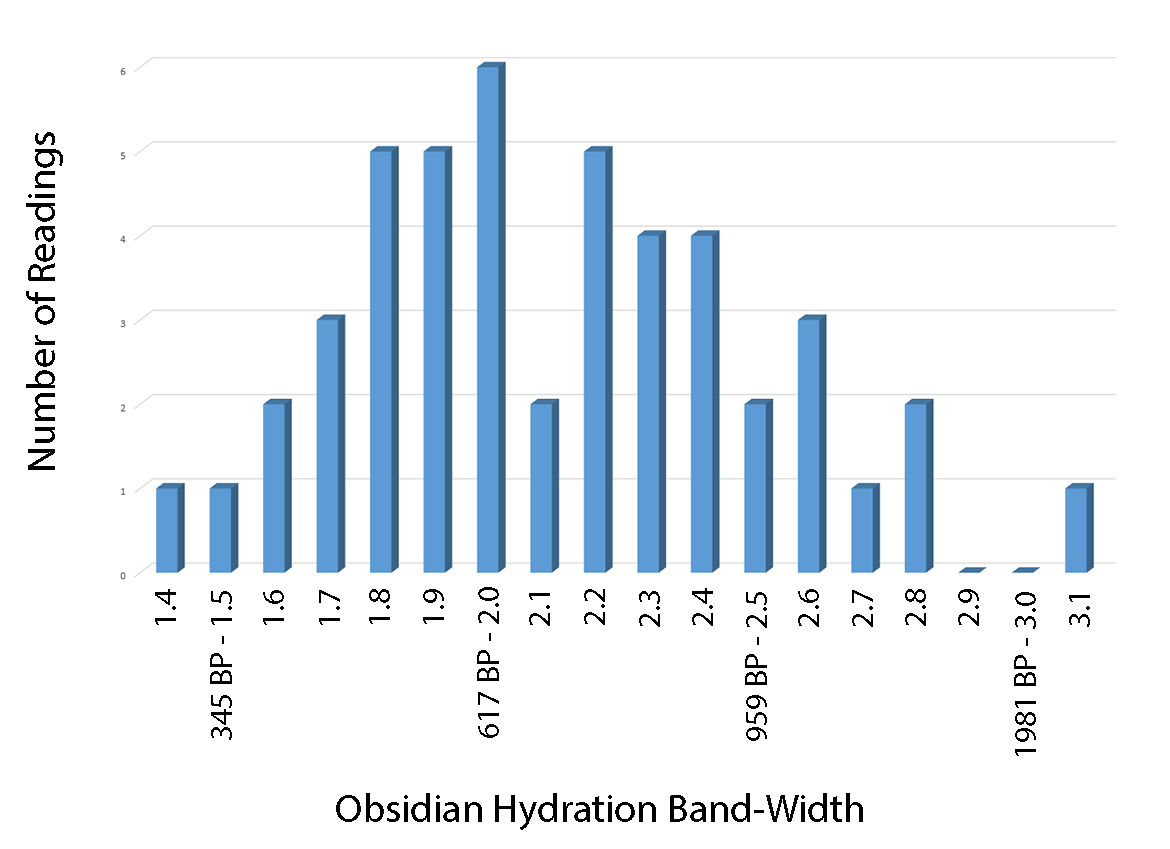 Distribution of obsidian hydration band widths and dates for 50 obsidian samples excavated from CA-CCo-312 (analyzed by Glenn Wilson, SJSU). Note that dates tend to peak around 617 B.P. or approximately 1330 B.C.
MATERIALS CURATED
The CA-CCo-312 collection consists of 1207 cataloged artifacts (1021 from the 1969 CSUEB excavations and 186 from the1968 San Francisco State excavation.
SIGNIFICANT FINDS
The analysis of materials excavated from CA-CCo-312 revealed several important aspects of the site that shed light on the prehistory of the Bay Area:
TRADE PATTERNS - The results of obsidian sourcing show that the CA-CCo-312 residents relied almost exclusively on obsidian from the Napa Glass Mountain quarry. 99.2% of the obsidian excavated at CA-CCo-312 had been quarried in Napa. This pattern contrasts with many other contemporaneous Bay Area sites where a substantial portion of the obsidian came from sources in the Sierra Nevada. For some reason the trade relationship between the residents of CA-CCo-312 and the Napa Valley was unusually strong.

Origin of the CA-CCo-312 obsidian (sourcing based on X-ray flourescence analysis of a sample of 506 obsidian artifacts). 


FAUNAL REMAINS - The analysis of the animal bones recovered from CA-CCo-312 helps us to understand the differences in food resources and diet between inland and bayshore archaeological sites. Sites located along the east bayshore, such as CA-Ala-328 and CA-Ala-329, show that the prehistoric inhabitants of the Bay Area relied to a great deal on shellfish, waterfowl and sea otters. The residents of CA-CCo-312, in contrast, exploited large herbivores (deer, elk and pronghorn) and large numbers of rodents (squirrels, wood rats, etc.).
PUBLICATIONS
Wills, Carrie D - 1994
Whispers From Coyote's Children: Investigations into the Archeology of CA-CCo-312. M.A. Thesis, Department of Anthropology, California State University, East Bay.