CA-Ala-431, Agua Caliente
LOCATION
CA-Ala-431 is located in the foothills above Fremont adjacent to Agua Caliente Creek and within the Mission Peak Preserve of the East Bay Regional Park District. The site consists of a linear exposure of thermally altered sandstone and four bedrock mortars, each with multiple depressions.
FIELDWORK
The site was surveyed and mapped in 1982 by students enrolled in CSUEB's Field Archaeology class under the supervision of Professor George R. Miller. An auger boring program and controlled excavation in previously disturbed backfill also was conducted; neither of these programs produced any significant result. A small surface collection is curated by the C. E. Smith Museum.
CHRONOLOGY
Late Period (ca. A.D. 500 - 1770) of California prehistory, based on charmstone typology (one perforated charmstone may be a Middle Period exception to this rule).
MATERIALS CURATED
A small surface collection from CA-Ala-431, consisting of 22 artifacts and 44 ecofacts, is curated at the C. E. Smith Museum:
| Artifact Class | No. of Items |
| --- | --- |
| Charmstone | 6 |
| Pestle | 2 |
| Obsidian biface | 2 |
| Obsidian flake | 1 |
| Chert biface | 1 |
| Scapula serrate | 4 |
| Bone awl | 4 |
| Worked bone | 2 |
| TOTAL | 22 |
SIGNIFICANT FINDS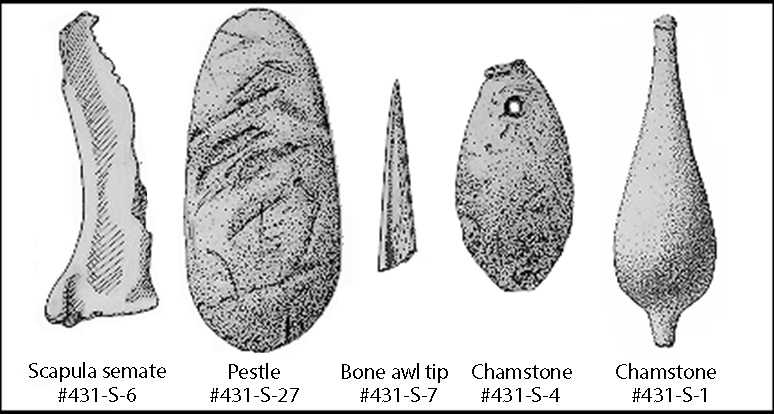 A sample of artifacts from CA-Ala-431