The History of the Rome
The Rome was a three-masted, 344.5 ton ship built in 1829 by Elijah Briggs in the Salem, Massachusetts shipyard of his cousin, Enos Briggs. The ship measured 116 ft. between perpendiculars, had a 25.7 ft. beam, and a 12.3 ft. depth of hold. She was just one of many sturdy vessels built during the early nineteenth century in the Briggs shipyard for service in the emerging market of the South Pacific and Indian Oceans. Surviving logbooks of the Rome show that she made several voyages to ports in this area (Calcutta 1830, Batavia and Manila 1838, Manila 1839) as well as to the European waters shown below.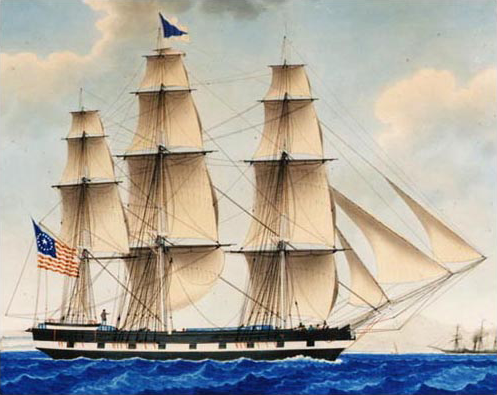 The Ship Rome leaving Marseilles in 1848 under Captian Samuel R. Curwen.  Watercolor by Honore Pelligren, 1848 (Courtesy Peabody Essex Museum, Salem, MA).
The Rome's final voyage, under Captain Josiah Dudley, was in response to the California Gold Rush of 1849. She set sail from New York during the summer of 1849 and arrived in San Francisco on February 28, 1850. An ad in the Alta California, a week after the Rome's arrival, details some of the assorted cargo offered for sale at the conclusion of the voyage.
"...40 barrels of dried apples, 100 dozen bottled ale, 100 dozen brown stout, 50 firkins butter, 25 barrels pea benas, 25 dozen white beans, 50 barrels of prime storehouse pork, resalted, 100 barrels cement, 50 cots and 200 boxes window glass."

- Alta California, March 5, 1850