Creativity
Artistic Expression Past to Present
In the old days, beauty permeated even the most mundane aspects of daily life. Nearly every object Ohlones and Bay Miwoks made had creative and artistic qualities, whether an exquisitely woven basket, a finely-chipped and well-formed obsidian arrowhead, or an iridescent abalone pendant. Dance regalia, created with sophisticated and elaborate fiber, feather, shell, and leather work, honored the spirits in everything. Today, Ohlones and Bay Miwoks express their creativity using both old and new materials and methods.

Bridging Past and Present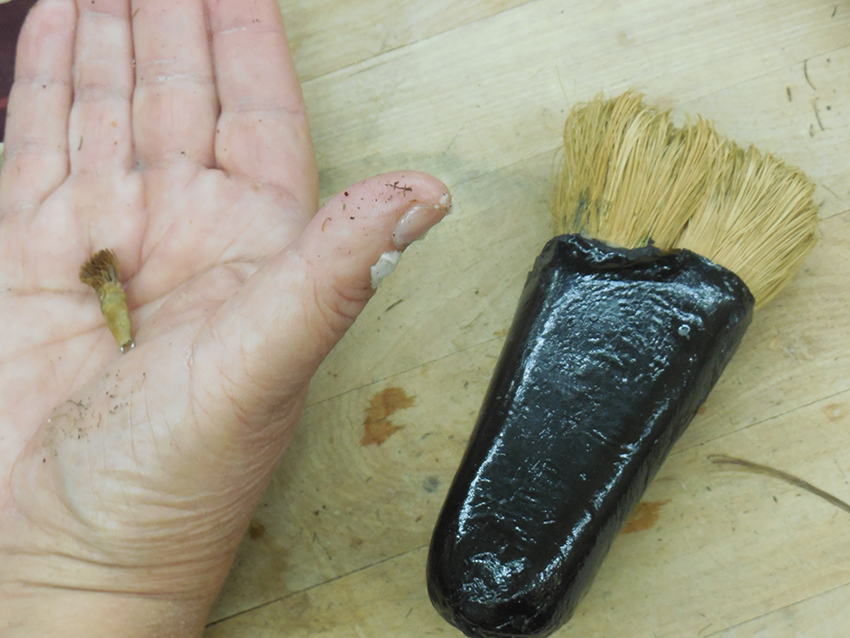 "I told my cousin maybe I should make soaproot brush earrings, and she said, "Come on, Mona, who's gonna wear soaproot brush earrings? …But I won't listen to her again. …I couldn't make enough…."
—Ruth's daughter Ramona
Ramona "Mona" Garibay learned to make soaproot brushes in 1996 from Coyote Hills Regional Park Naturalist Beverly Ortiz, who learned to make them from Central California elders. Mona later innovated specialized methods to make miniature soaproot brush earrings and pins. She sold her earrings and pins for the first time, along with full-sized brushes, as a fund raiser for the Annual Gathering of Ohlone Peoples hosted at Coyote Hills by the East Bay Regional Park District.
Tinkering
"I'm constantly working on or modifying something, because I'm mechanically inclined…. If something breaks, I usually fix it so…it's better than the way they designed it. I love tinkering…. I love making jewelry out of beads."
--Ruth's daughter Ramona
Portrait of a Family Artist
Ruth's granddaughter Melanie C. Lacy Kusters received her Bachelor of Fine Arts in 2005 from the San Francisco Art Institute and her Masters of Fine Art in 2007 from the California College of Arts and Crafts. She is Based in San Francisco.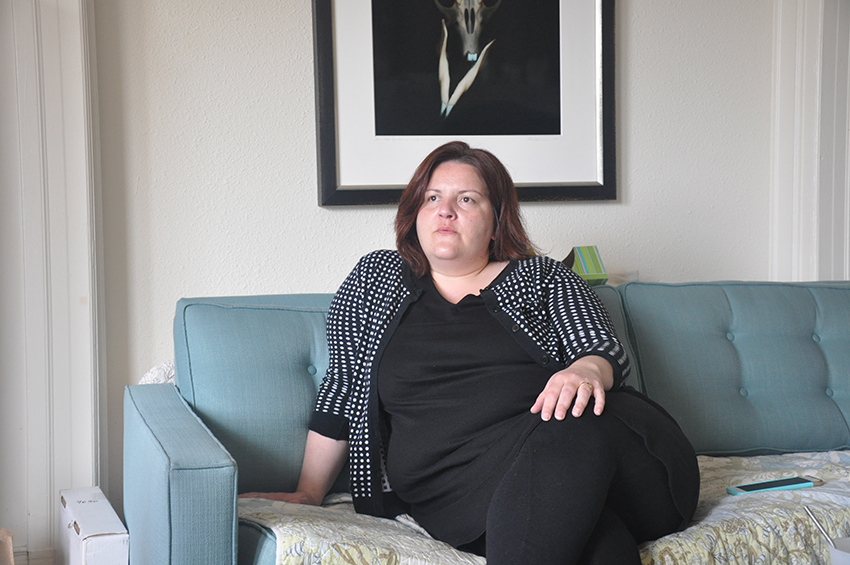 Artistic Inspiration
Melanie's embroideries contain only portions of original photographs, with faces often left blank, symbolic of memory. Her work, like memory itself, focuses on visceral feelings, and on our interconnected relationships, rather than exacting reproduction of history.
Embroidered Vintage Pillowcases
"Objects carry meaning, whether they are strands of DNA that trace your ancestry, or vintage fabric imbued with personal history."
--Ruth's granddaughter Melanie
Melanie draws inspiration from her personal and family history. Two of her hair pieces on display here are examples of her focus on intensely personal topics. Melanie uses her own hair to embroider the outlines of her family's photographs on vintage pillow cases. Her literal weaving of herself into a medium that predates her serves as symbolic representation of how each of us integrate into a line of ancestors that stretches beyond memory.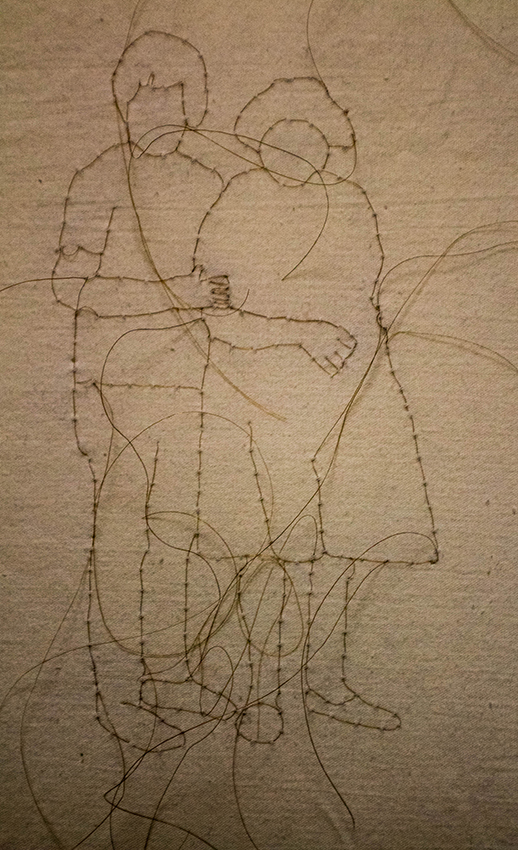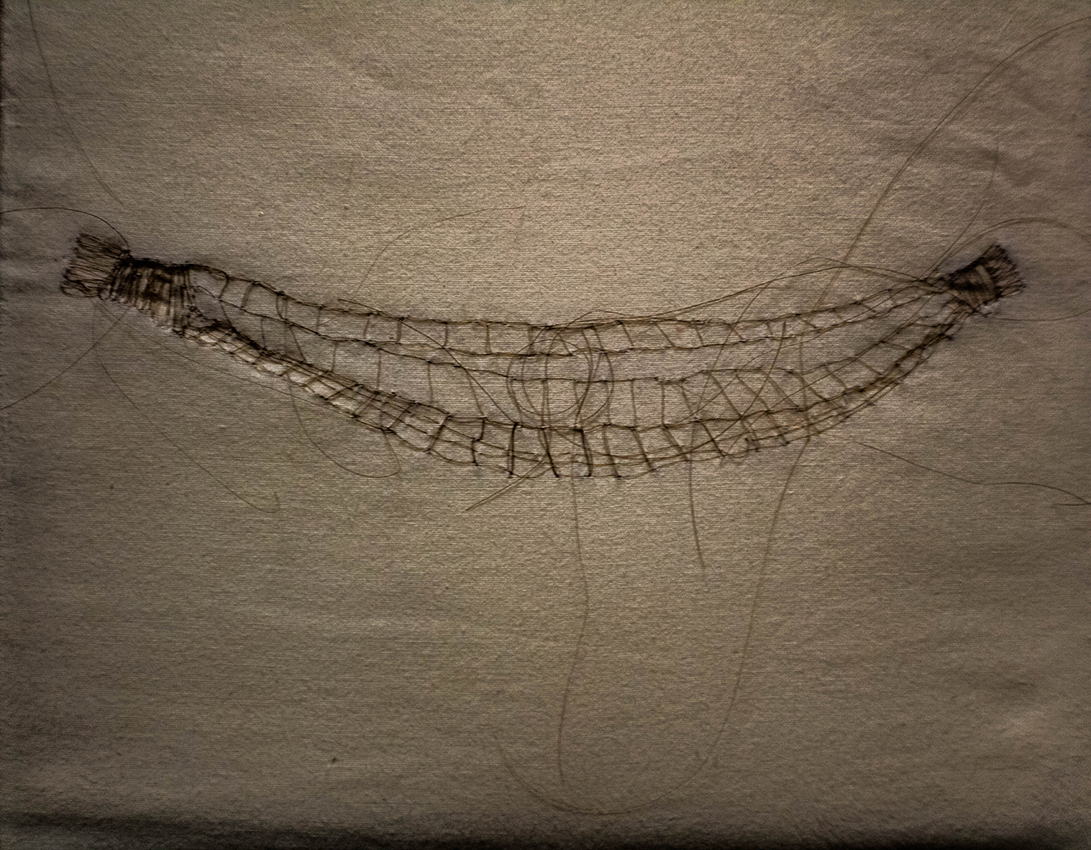 Symbols of Identity
In the old-days, Ohlones and Miwoks wore necklaces made with gray pine nut beads, clamshell disk beads, and abalone pendants as elements of dance regalia. The dances were a form of visible prayer.
Today, in addition to regalia, necklaces made with old-time materials, as well as modern glass and plastic beads, express cultural identity. Friends of Ruth Orta made the necklaces displayed here.