RAW Sustainability Committee
The RAW Sustainability Committee was established in September of 2016 in an effort to revitalize and reinforce our commitment to, and participation in, sustainability related goals at Cal State East Bay.
The committee is comprised of annually appointed student employee representatives from each component area of the RAW (fitness, intramural sports, operations, marketing, wellness, and member services), and is co-chaired by two full time staff members from both the Recreation and the Wellness sides of the Recreation and Wellness (RAW) Services. Additionally, "consultants" from ASI Sustainability, the Office of Sustainability, and the DISC on campus often join the committee and help inform the discussion. 
The overarching purpose of the committee is to arrive at annual objectives and goals in an effort to identify educational resources, educate employees, conduct research, identify practices, make recommendations, and ultimately encourage the adoption of sustainable practices.
The 2019-2020 Committee is currently identifying and working on goals and objectives for this year. Prior accomplishments of the committee through the years are listed below. 
2018-2019 Committee
Reimagined and updated a previous version of the video showcasing the Sustainable Features of the RAW; shot by committee member Kyle, with voiceovers provided by committee members Jizelle and David.
Continued to develop our RAW Sustainability Stories, creating permanent signage for 13 features in the building.
Created permanent signage to reduce paper towel waste and unnecessary water use (see below).
Attended and supported on campus Earth Week events "Sustainaganza" and "Earth Day Fest", conducting Bottled and Tap Water Taste Tests to promote the use reusable water bottles.
During Earth Week, the RAW staff also engaged in an Eco Challenge via the Shine app.
RAW departments watched I Want You to Stop Recycling and had thoughtful discussion on ways in which we can shift away from our reliance on recycling and towards efforts to reduce, reuse, and refuse.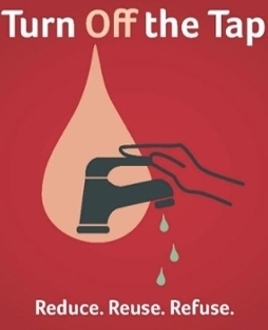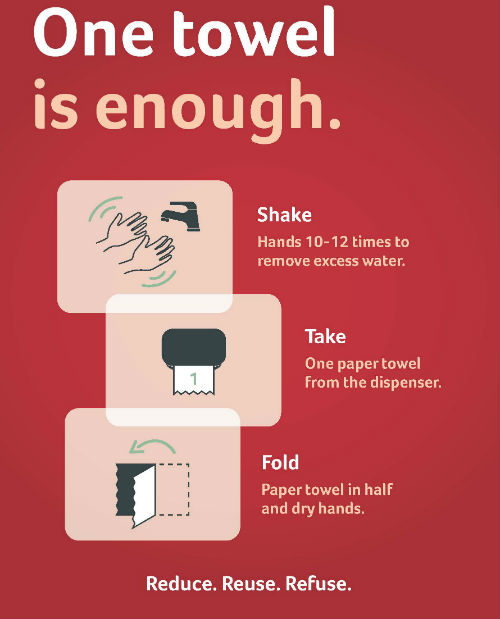 2017-2018 Committee
Conducted outreach in the form of the Tap and Bottled Water taste test to raise awareness regarding the use of plastic and the bottling of a natural resource.

The Committee conducted the tap and bottled water taste tests 7 times during the winter and spring quarters, in the RAW lobby and during outreach at events including homecoming, the farmer's market, and Earth Day!   
Participants were asked to complete a water awareness droplet pledge if they cared to. Some of the responses were "I pledge to...."

Use a refillable water bottle and not disposable as much
Always use a refillable water bottle for every time I teach my classes
take 5 minute showers
buy less water bottles this year
use my hydroflask
reuse bags, reuse bottles, recycle bottles
use my water bottle more and take shorter showers
try to conserve water

These efforts culminated with the water bottle exchange at Earth Day wherein the Committee members partnered with ASI and gave students a free stainless steel water bottle in exchange for a single use water bottle.

Created signage for the locker rooms to encourage patrons to be mindful of the duration of their showers at the RAW and at home.
Continued to develop our RAW Sustainability Stories, turning them into videos with voiceovers that were distributed via the RAW newsletter
Recipients of the 2018 Sustainable Pioneer Award recognized by the Office of Sustainability.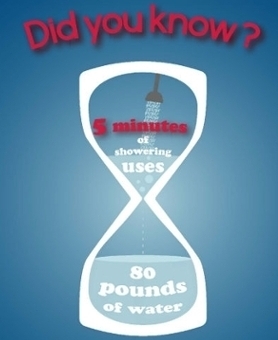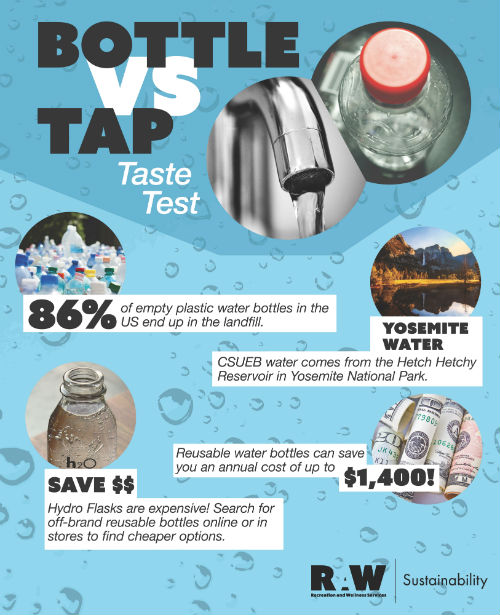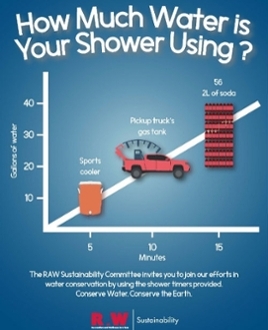 2016-2017 Committee
Educated staff on the implementation of the triple-stream/zero-waste system on campus to more effectively compost, recycle, landfill our waste.
Developed a sustainability statement
Developed sustainability related interview questions for job candidates in the hiring process
Conducted internal audit of component areas arriving at tips and pointers for each area to works towards a more sustainable community
Developed Sustainability Stories of over a dozen sustainable features in the RAW and posted them up in the RAW and on the RAW green design features webpage
Made recommendations about incentives and prizes for participation in RAW activities and events (is it a give a way or a throw away?)
Educated staff on an efficient way to use just one paper towel when drying your hands. Shake and Fold Video!
Participated in Earth Day/Week, displaying the amount of Paper Towels used by the RAW in a given day
Pilot department for Sustainable Office Assessment Program (SOAP)