University Messaging
The university's brand story can be summed up in three words: location, population and motivation. These are the three "pillars" of our message architecture.
Our brand promise can be summarized as "a real-world education."
Let's dig into what we mean by these words and phrases: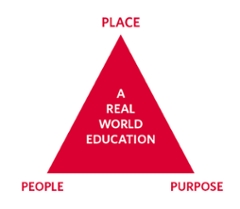 PLACE: Cal State East Bay is located in the most populous, dynamic and diverse region of the Bay Area. The East Bay is experiencing rapid economic growth and an influx of innovation and cultural change. Cal State East Bay is a big part of that. We are "the East Bay's university."
PEOPLE: Cal State East Bay's student body, faculty and staff are among the most culturally diverse in the nation — reflective of the multicultural mosaic that is the East Bay, and the future of California. Most of our students represent the first generation in their families to earn a college degree.
PURPOSE: Our students have worked hard to get here and they're committed to their education. Our staff and faculty are driven to provide them the support they need to be successful. Employers value the positive, "self-starter" attitude our graduates bring to their jobs.
A REAL-WORLD EDUCATION: Cal State East Bay students graduate equipped with the skills and knowledge that today's workplace demands. Our programs are as close to real-world experience as students can get before entering a career. This is a benefit not only to our students, but also to the regional economy and the communities we serve.
Remembering our three key messaging pillars and our brand promise will enable you to tell our brand story in your own words whenever the opportunity arises.
Message Architecture
Here is an example of how the messaging architecture might be used to talk about Cal State East Bay:
"The East Bay is a region on the rise. You can feel the energy. Hot companies are moving here and creating more jobs. Downtown Oakland is undergoing a cultural and creative renaissance. People are moving here from across the bay in search of a more affordable, higher quality of life. Some see the East Bay as the Bay Area's next frontier of innovation and growth."
"Cal State East Bay is in the perfect place to participate in the East Bay's ascendance. We really are the East Bay's university, serving the entire region. We have been named as one of the most diverse universities in the nation, reflective of the communities our students come from. Most of our students are the first in their families to attend college. They are highly motivated to work hard, graduate, and make an impact in their chosen fields. Our educational programs prepare them with the real-world skills and knowledge that an innovation-driven workplace demands."