Careers, Internships, & Graduate Schools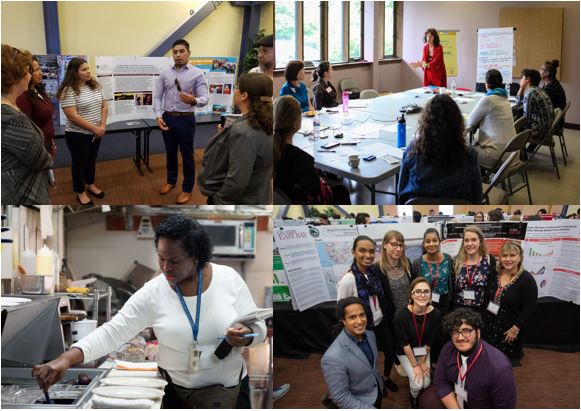 Careers
There are many career options available in Public Health both in clinical settings as well as in other sectors such as public health, policy, technology, and law.

In the Department of Public Health, students have three concentrations to choose from – Public Health, Health Policy, or General Health Sciences. Below are brief descriptions of what a career in public health or health policy may entail.

Public Health
As a public health professional you will be trained to perform services essential for preventing disease and promoting health:
⦁ Monitor the health status of a community to identify potential problems
⦁ Diagnose and investigate health problems and hazards in the community
⦁ Inform, educate, and empower people about health issues, particularly the under-served and those at risk
⦁ Mobilize community partnerships to identify and solve health problems
⦁ Develop policies and plans that support individual and community health efforts
⦁ Enforce laws and regulations that protect health and ensure safety
⦁ Link people to needed personal health services and ensure the provision of health care when otherwise unavailable
⦁ Ensure a competent public health and personal health care workforce
⦁ Evaluate effectiveness, accessibility, and quality of personal and population-based health services
⦁ Research new insights and innovative solutions to health problems

Public health professionals are interdisciplinary and can have a variety of job titles and descriptions based on your interests and educational experience. Some job titles include Public Health Advisor, Program Coordinator, Epidemiologist, Data Analyst, Community Health Worker, Environmental Health Specialist, Health Educator, Industrial Hygienist, Consumer Safety Officer, Research Scientist, Health Communications, Patient Navigator, Health Economist, Program Evaluator, Grant Writer, and a variety of other titles.

A good resource for public health job descriptions is the e-book "101+ Careers in Public Health" by Beth Seltzer, which is available online for free through the Cal State East Bay Library. Another excellent resource is to speak with your Faculty Advisor on different career paths and to explore your interest in Health Sciences.


Health Policy
A career in health policy is aimed at influencing population health through the development and analysis of laws, programs, or policies to ensure that they are beneficial to society. Health policy is also a rapidly expanding field because there is growing recognition that collaboration across sectors is needed to successfully address complex health issues. A health in all policies approach is now being used among many public and private entities working to improve health and reduce health inequities.

"Health policy refers to decisions, plans, and actions that are undertaken to achieve specific health care goals within a society. An explicit health policy can achieve several things: it defines a vision for the future which in turn helps to establish targets and points of reference for the short and medium-term. It outlines priorities and the expected roles of different groups, and it builds consensus and informs people."
-World Health Organization

Government agencies, nonprofits, medical centers, and corporate firms all employ health policy professionals. Work may involve writing new health policies, evaluating current health policies, or helping to rewrite and update old policies. Individuals become health policy analysts, hospital administrators, healthcare researchers, lobbyists, program coordinators, or a variety of other options.

Job Search
You should be active in your job search and build connections and networks. Each job is a stepping stone towards your ideal career – your first job doesn't have to be your career, but it should help you move towards your goal. Below are some public health job search links and a good place to start looking for your next job or career. Health Science Faculty will also occasionally post job announcements on SLACK.

Job board provided by the Association of Schools and Programs of Public Health
American Public Health Association (APHA)'s Public Health CareerMart
The U.S. government's job board for opportunities at federal agencies
The National Association of County and City Health Officials
A job board for nonprofit organizations including groups concerned with public health - idealist.org
A job board for vacancies with the United Nations and other International Organizations - unjobs.org
Emory University public health job board
University of Washington Public Health job board
Graduate Schools
Entering graduate school is an important decision – it will impact your life and require an additional financial investment.
There are a variety of reasons why people choose to enter a graduate program:
⦁ Greater earning power
⦁ Advance your career
⦁ Change your career
⦁ Enhance your education
⦁ Get research opportunities
⦁ Employer incentives
⦁ Realization of interest
⦁ Family & community recognition
⦁ Because you want to
There are also a variety of graduate degree types for students with a Bachelor's degree from the Department of Public Health to pursue, some of these include:
⦁ Masters of Public Health (MPH)
⦁ Masters of Science (MS)
⦁ Doctor of Public Health (DrPH)
⦁ Doctor of Philosophy (PhD)
⦁ and many clinical degrees (MD, PA, PT, OT, RN)
If you are interested in graduate school or want to know more about what graduate school in public health is like, the Association of Schools & Programs in Public Health (
ASPPH
) is a good start as well as exploring college and university websites for their public health programs. Additionally, you can speak with your faculty advisor.
The Department of Public Health at Cal State East Bay does not currently have any graduate programs at this time, but we are actively exploring opportunities to expand.
Internships
Whether paid or unpaid, internships give Public Health students practical learning experience and opportunities to work alongside public health professionals. Internships are usually structured to provide experience for students who are still learning about public health and can help students decide on which career path in public health is suitable for them.

Internships are hosted by a variety of institutions. Students should be on the lookout for these opportunities and actively search for internship programs if they are interested. Public Health Faculty will also occasionally post internship announcements on SLACK.