Roommate Group Creation Instructions
Log in to the Student Housing Portal and click ROOM

Click CONTINUE next to Academic Year 2022-2023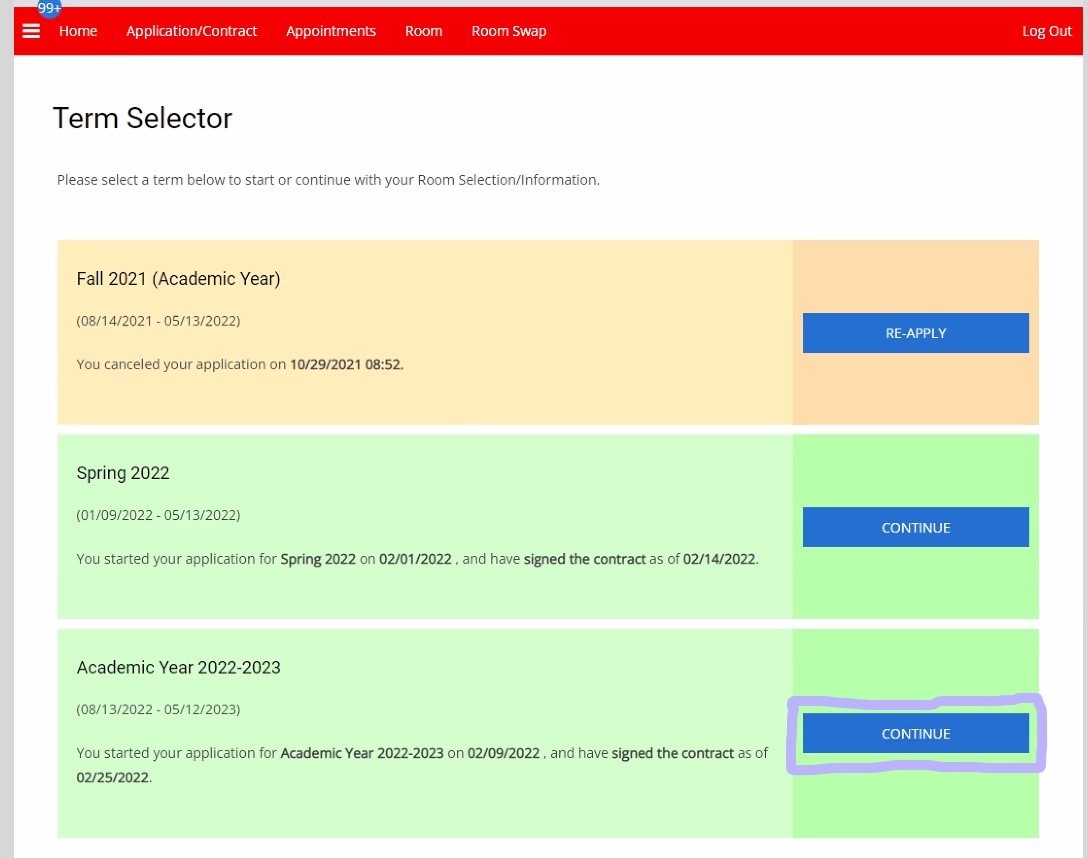 Answer the About Me questions-recommended but not required
Answer the required roommate matching questions
Under Select Next Step, from the drop-down menu select ROOMMATE GROUP CREATION and then click on save & continue
You will be taken to the roommate group creation main page, click on CONTINUE

To create a roommate group, click on CREATE GROUP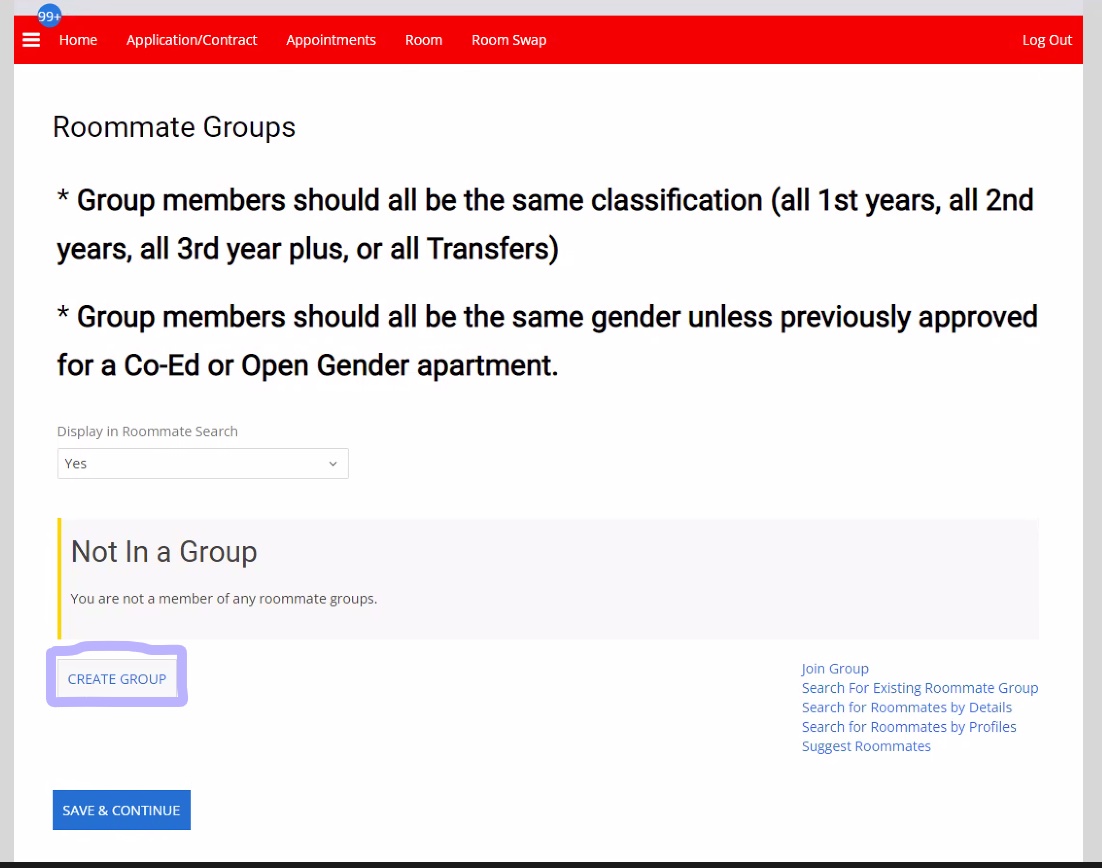 If you click on Create Group, you will be the person creating a new group for which you will be the group leader. At that point, a name for your group will need to be determined, please make sure that you remember the name and share it with other group members exactly as it was entered. Capitalization, spaces, and numbers matter.
Let other people search for this group? the question has to do with privacy. Do you want your group to appear when people are searching for groups or do you want it to be private? If you choose to not click the box and keep it private make sure you share the group name accurately or group members will not be able to find it.
Click SAVE GROUP when ready
 After the group is created it will look like this.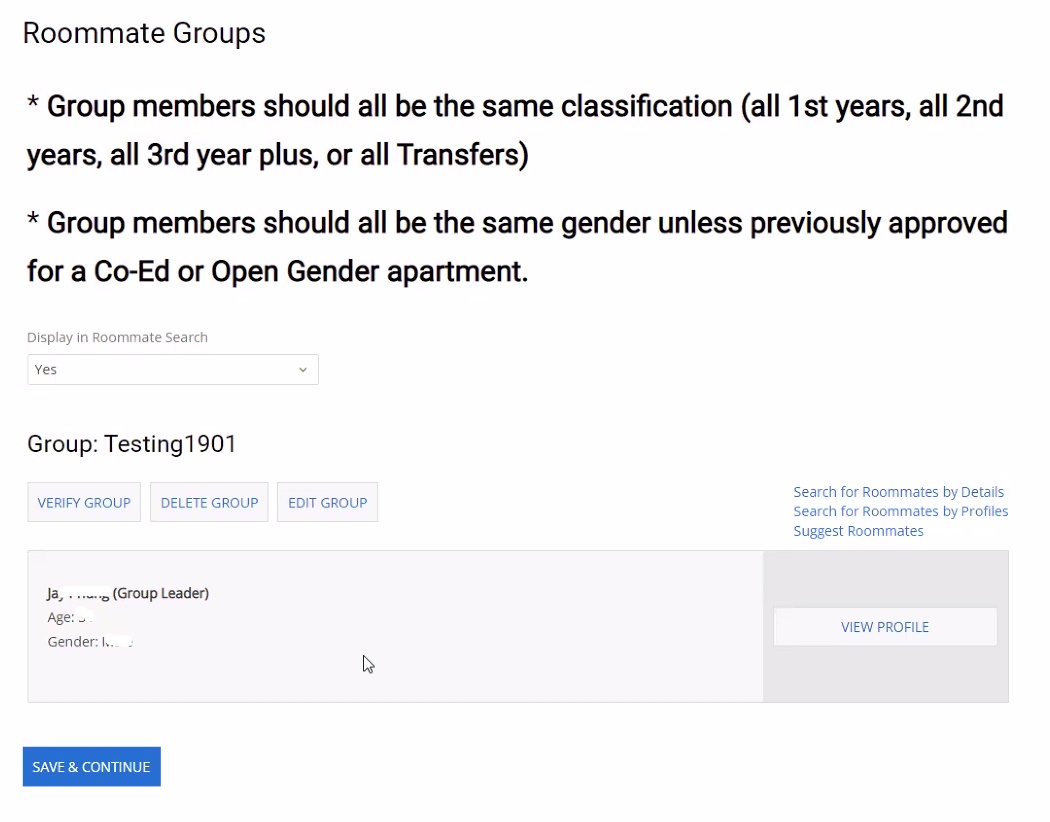 A roommate can be searched by:
Join Group: Applicant will need the roommate group name exactly as it was entered or the group will not show up.
Suggested Roommates: The system will show applicants based on the percentage determined by answers provided on the Roommate Matching questions (Step 4). Web screen names will be viewable to others. Only legal names will remain private

 
Web screen names will be viewable to others. Only legal names will remain private

Existing Roommate Groups: Groups that set their privacy as public(step8) to allow others to search for them. 
Roommates by Detail: You may find someone by searching their screen name or net ID.

This option works if you know someone or happen to come across someone that you like as a possible roommate and have that conversation with them, if they choose to share their information you will be able to look for them.

Roommates by Profiles: The roommate matching questions will be used to search for roommates based on what is most important to you. Make sure to prioritize subjects that are not non-negotiable to try and find the best match. Just remember that this is to help you find someone and that it might not match you 100% with someone but a 70% match might still work out, it is your decision to request them as roommates in this optional step.
Regardless of the method you use to find someone, please make sure that they are of the same classification. Only second years can live with second years and third-year plus with third-year plus. To see someone's classification, visit their profile. Groups that do not follow the classification rule might be deleted.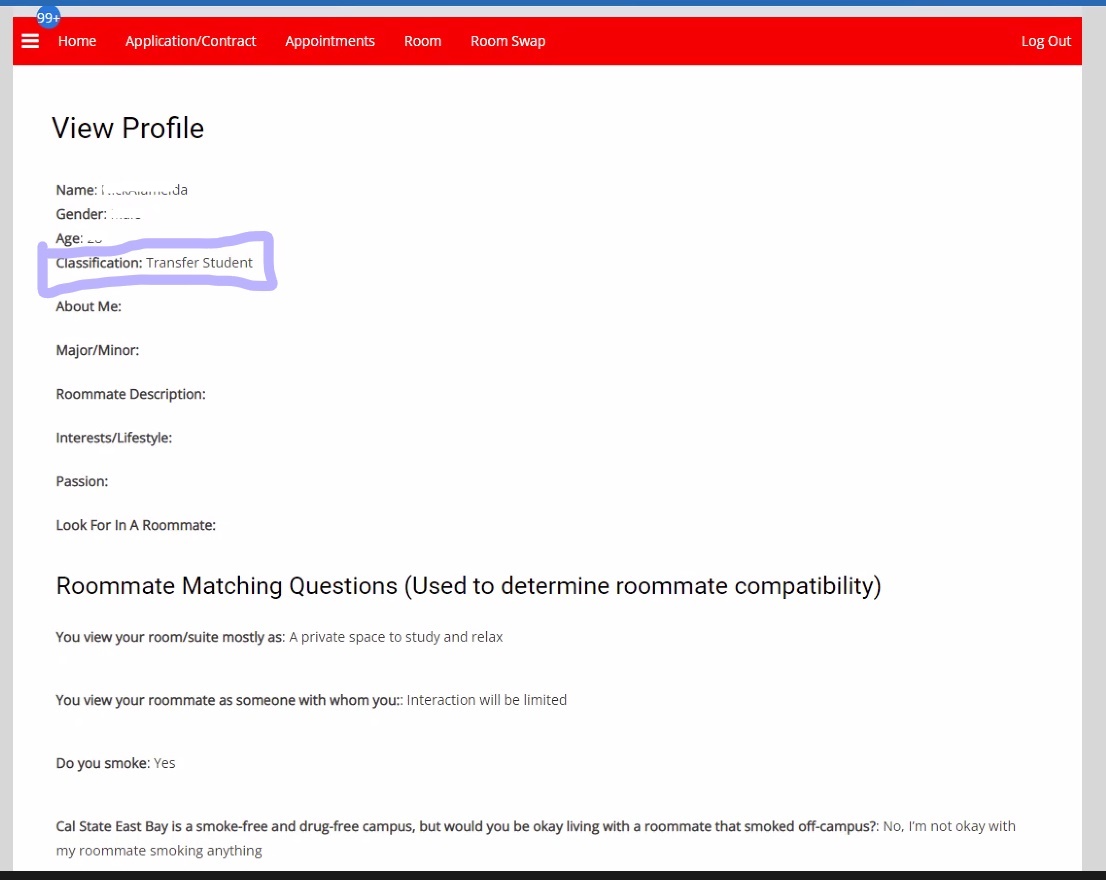 Once you find someone that you might want to room with you can view their profile or send a message and finally add to the group.
View Profile: You will be able to see what was written in the about me section and the response to the roommate matching questions

Messages: if you have any questions about their profile or would like to get to know them more before requesting them as a roommate.

Add to the group: If you choose to add someone to your group all you have to do is click on ADD TO GROUP

What it looks like when a request is sent to someone.
Under outgoing request, you will be able to see who you sent a request to and If you accidentally sent a request it can be canceled by clicking CANCEL next to the person's name.
What the person being asked to join will see.
The person being asked to join will have the option to accept or decline the request.
If the request is accepted, this is what everyone in the group will be able to see.
If an individual requests to join a group, this is what they will see.
Only the group leader can accept or decline requests.
What if you no longer want to be part of the group? You can leave the group by clicking LEAVE GROUP
What if group leadership needs to be transferred? Click on MAKE LEADER next to the person you would like to transfer leadership to.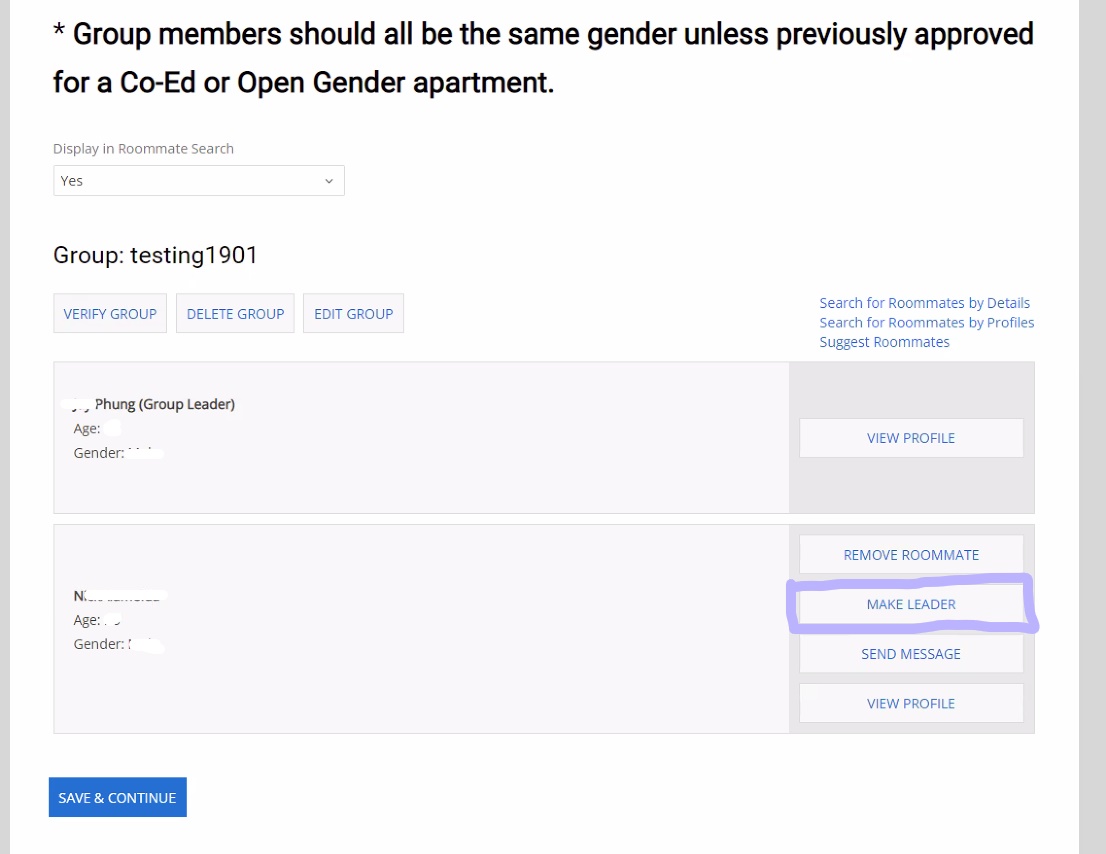 Accidentally accepted someone? As the group leader, you can remove a group member from your group by clicking REMOVE ROOMMATE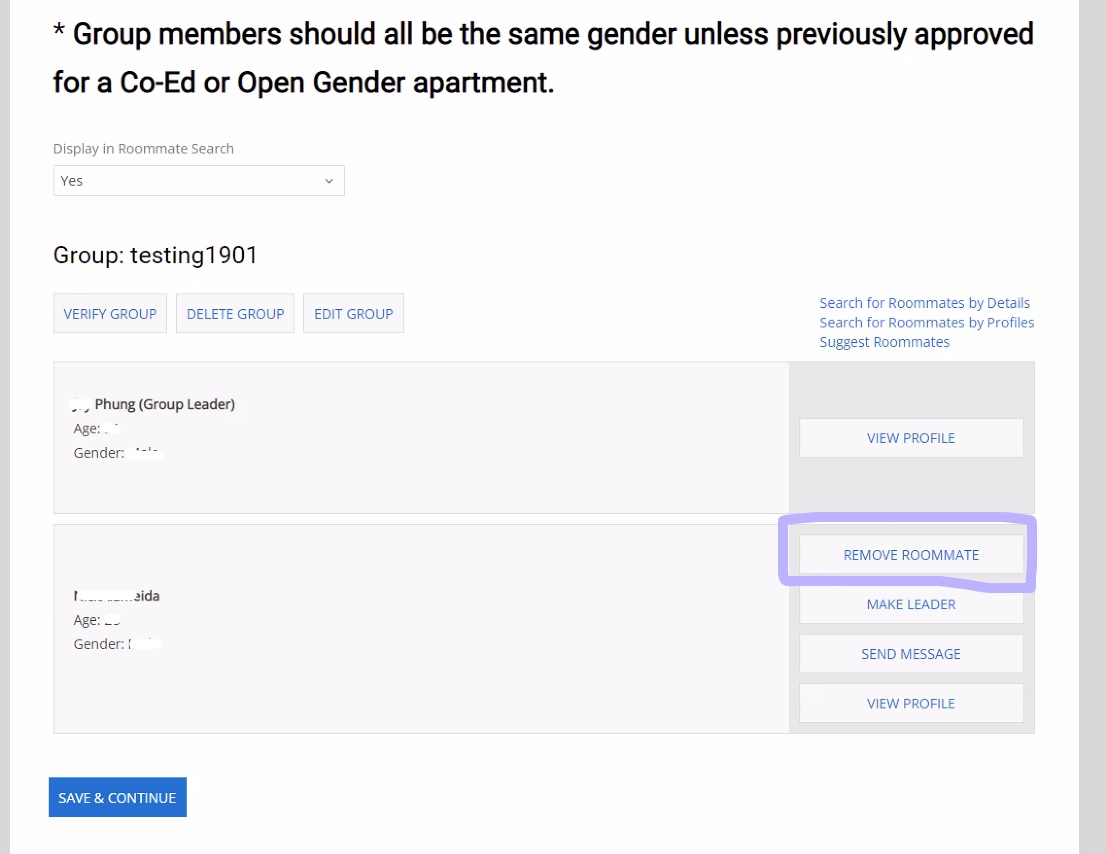 Once the group is complete it must be verified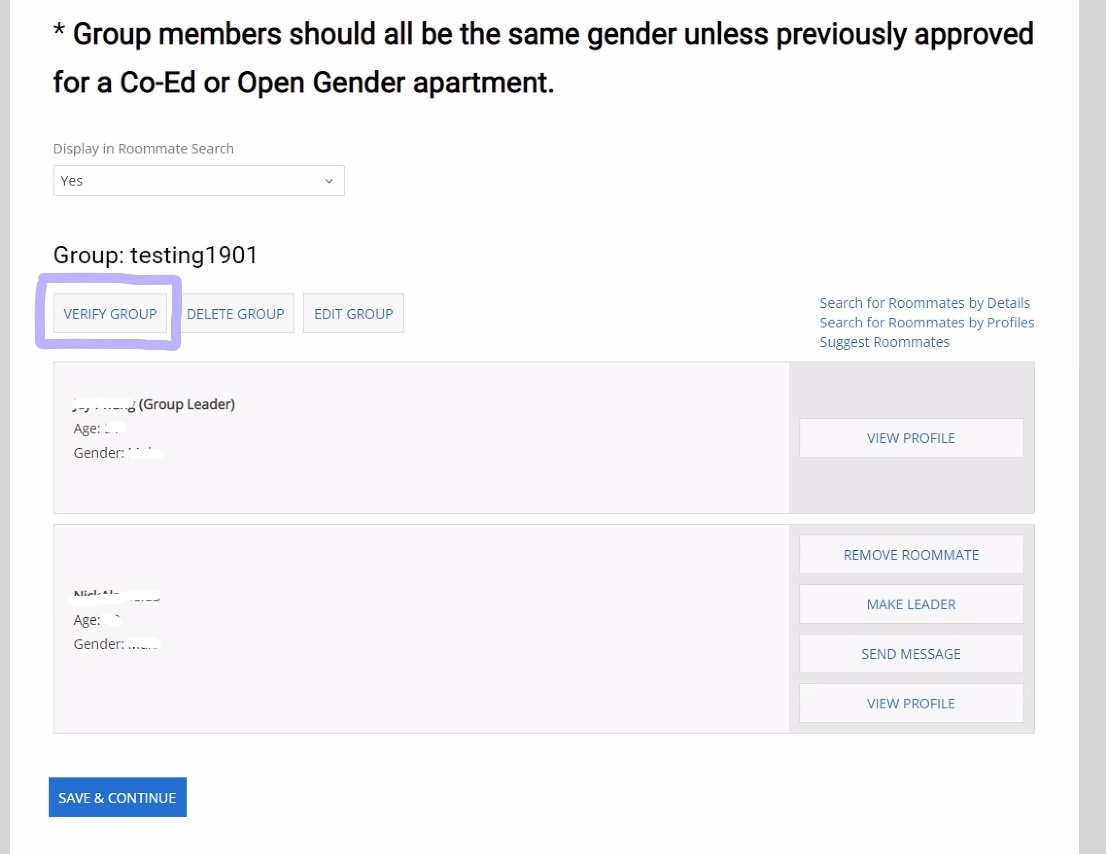 What it looks like after verification. Once verification is completed changes cannot be made to the group