Student Housing Inspections are conducted in student living environments to promote healthy living, safe conditions, and care for the facilities. Resident Assistants will be entering your apartments at two different times, starting mid-November, to provide feedback before the two-holiday breaks. If your apartment fails the inspection, you will receive a notification on actions required and possible fees.
Resident Assistant will key into your apartment, suite, and bedroom.
Resident Assistants will be looking for the following items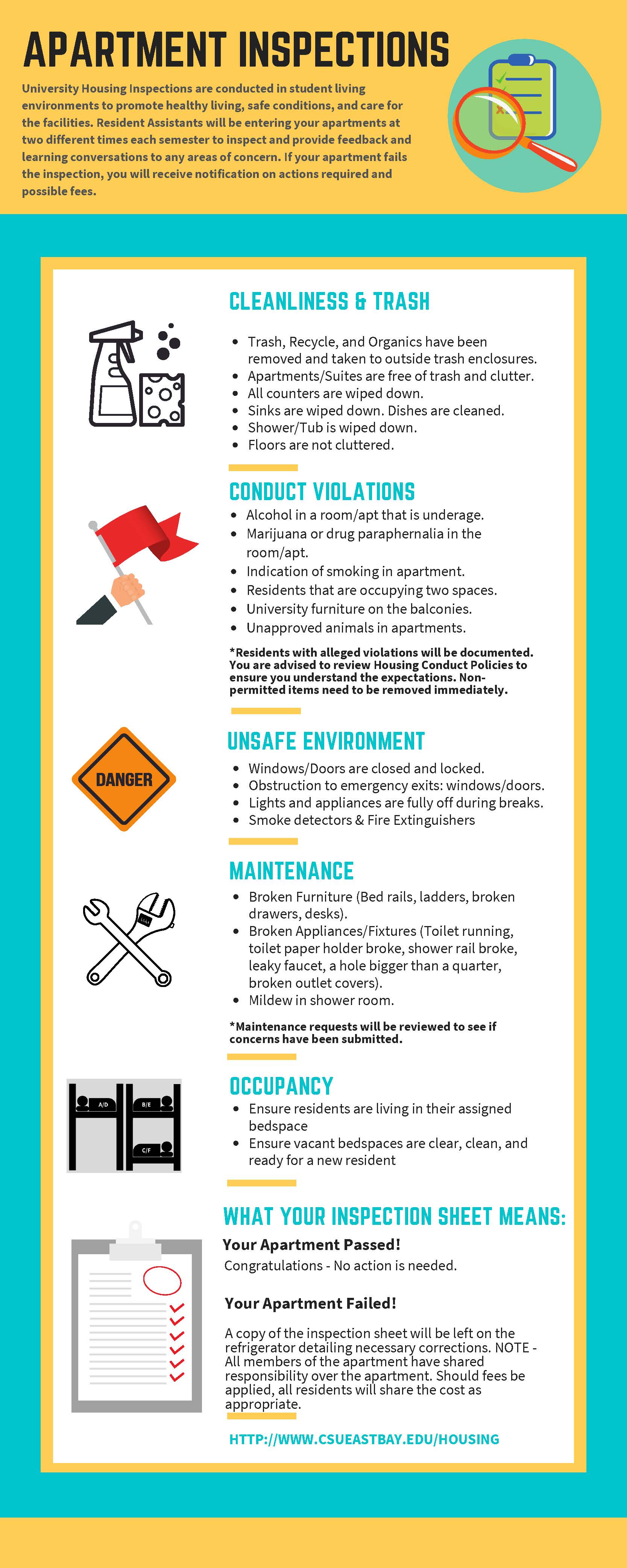 IMPORTANT INFORMATION
If a Resident Assistant finds a violation of the License Agreement or the Student Housing Conduct Policies, an Incident Report will be submitted, and you will be contacted regarding the violation and conduct processes. Unapproved items in conduct violation must be removed immediately from Student Housing premises.

If a Resident Assistant finds a broken appliance/fixture or other maintenance concerns, a maintenance request will be submitted on your behalf. Facilities may be entering your apartment, suite, and/or bedroom to complete the repair without further notice.

The Resident Assistant will leave a copy of the Apartment Inspection Review Sheet on your dining table for all apartment/suitemates to review. All residents of the apartment will be held responsible for action-needed items and possible fees.

As a reminder, if you are leaving for either extended breaks, please unplug all electrical items, including alarm clocks and any other devices that may go off while you are away. The Resident Assistant and/or Housing Staff may unplug items while you're away to reduce power consumption and for safety in the residence hall.

To preview the Apartment Inspect Review sheet, please click here. Your apartment will receive emails to further understand a Pass or Fail score.