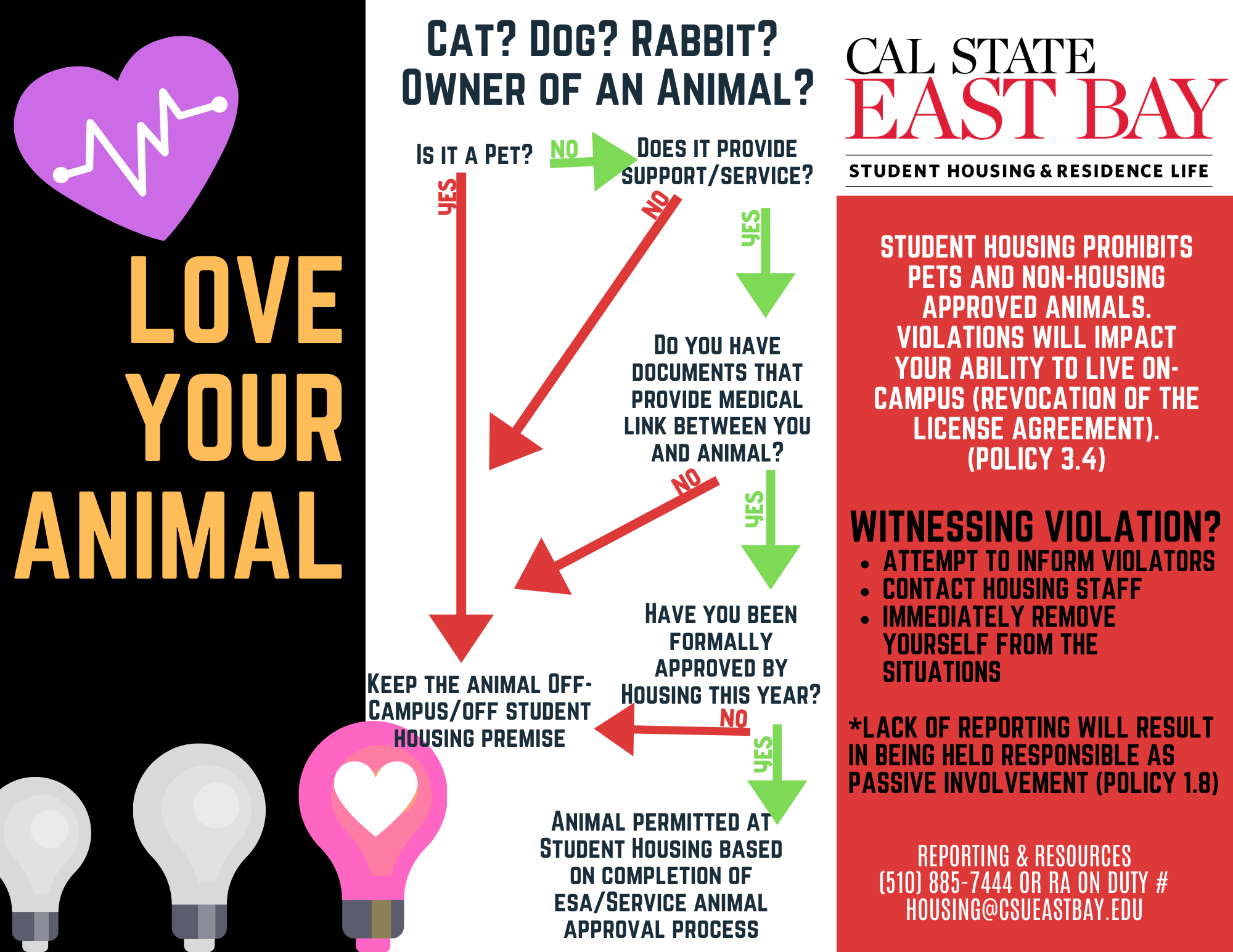 The student must submit the Housing contract and ensure that the request for any assistance animal is identified on the contract.
If the student is requesting an ESA, Student Housing & Residence Life (SHRL) will provide the "Emotional Support Animal Verification" form to the student and encourage the student to make an appointment with CSUEB's Accessibility Services office to discuss the ESA request and other possible academic accommodations. The student's health practitioner must complete the form, or an equivalent form, and return it to Accessibility Services.
Once Accessibility Services determines if the animal qualifies as an ESA, they will notify the student and SHRL. Any confidential medical documentation will be retained by Accessibility Services.
For both service animals and ESAs, any additional documents required by the City of Hayward and Alameda County, such as vaccinations and city and county licenses, will be required to be submitted by the student to SHRL.
Once SHRL makes a determination on reasonable available accommodated space in housing, the student will be notified by SHRL.
During move-in, SHRL staff and the student will complete a walk-through of the apartment.
At the end of the walk-through, the student must fully complete the Assistance Animal Agreement and comply with its requirements.
Signage that an assistance animal is in the student's building will be created and posted by SHRL on the student's door and at the building entrance. This will ensure that others living in the student's hall are aware of the assistance animal. The signage will also serve as notification to those needing to access the hall to provide services, such as University Vendor(s), Facilities, University Police, and the Fire Department.
Important documents
Emotional Support Animal (ESA) Verification Form