Counseling Services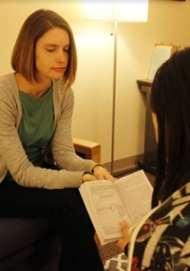 Counseling is providing remote services while classes are online.
Schedule an appointment at https://health.csueastbay.edu.
The end of the school year is fast approaching, and we want students to know their options for counseling support at this time.
Single session therapy.

  Because there may not be enough time at this point in the semester to schedule follow up visits, students new to counseling should keep in mind that their initial session may be their only one this Spring.

Fee for summer services.

  If students would like to continue with counseling over the summer term, those eligible can opt to pay the $193 health fee.  This fee means that you can continue to use both counseling and medical services at SHCS for the entire summer.  Call (510) 885-3735 for more details.

Outside resources.

  The SHCS website includes a plethora of wellness information, including

Online Wellness Resources

,

Self-Help Videos

from counselors, a

Wellness Reading List

, ideas for

Pleasant Activities while Physically Distancing

,

Crisis Support

,

Off-Campus Counseling Referral List

, and

Free and Low Cost Psychiatry Referrals

.  We will also be publicizing wellness resources throughout the summer on our Instagram account, @eastbayshcs.

FREE Summer Wellness Wednesday group.

  Throughout the summer, counseling will be offering a group over Zoom for students to connect and learn about healthy coping skills.  Students do not need to pay the summer health fee to participate in this group.  Register online at

https://health.csueastbay.edu

, or call (510) 885-3735.
Counseling Services help students deal with life issues which impact their academic or personal lives.  Counselors are trained to address any personal issue that students might be facing. 
See what our Pioneer students are saying about our counseling services below!
"I feel like I have grown as a person and have found ways to cope with my feelings and have gotten to know myself better too. (My counselor) is amazing!"
"I have seen counselors occasionally in the past but they have not felt like a good fit. (My counselor at East Bay) makes me feel heard, respected, and understood."
"My experience has been amazing . . . Being able to share what I was feeling and going through made all the difference."
"Each counseling session was such a safe and therapeutic space for me to address all my issues and concerns. . . My counselor was absolutely fantastic."
"Counseling has helped me have hope to finish the school year and be a happier person." "It helped me in ways I couldn't imagine and at a time when I was self destructing and did not know where to turn."
"My counselor was able to help me better understand myself and the things I was going through."
"(My counselor) saved my life. . . I am eternally grateful that this service was available to me, and that I got the care I need."
"This experience has brought on new changes in my life I didn't think were possible and it feels really good. I felt like I don't have to be stuck on the "bad days" all the time."
"(My counselor) really helped to make me realize how dangerous of a situation I was in. She did so in a way that made me feel encouraged to seek help. . . Speaking to her was like speaking to a close friend."
"I feel calmer, happier and more equipped to handle challenging situations. I wish I would have started counseling a long time ago!"
"I was a bit scared because I had never gone to counseling before and did not know how to start, but my counselor made it easy and comfortable for me to open up."
East Bay students have found counseling helpful in addressing:
Counseling Help

| | | | |
| --- | --- | --- | --- |
| | | | |
| | | | |
| | | | |
| | | | |
| | |   |   |
This is not an exhaustive list. 
Online Mental Health Screenings
Take a brief screening here. Topics available include depression, anxiety, trauma, eating disorders, bipolar disorder, and substance use. Screenings are brief and anonymous, and you will receive your results and recommendations immediately after taking it.
FOR ACADEMIC ADVISING, please contact the Academic Advising and Career Education (AACE) department at 510-885-3621, or visit their webpage.
 Call (510) 885-3735 or come to Student Health and Counseling to schedule an appointment and find out more.  
Wellness Resources
Wellness Reading Resources
A variety of wellness topics and communities wellness reading list of self-help resources.
On-Campus Resources
On-campus program resources for Pioneers students.
Free and Low-Cost Psychiatry Referrals
Local free and low-cost

psychiatry

resources.