Helping Students in Distress
Now more than ever before, students are experiencing a high level of stress and anxiety and may be struggling to get their basic needs met.  Any staff, faculty, or student may encounter a student who is in need of support.  We want our entire community to feel equipped to look out for one another, provide empathetic connection, and to bridge students to support resources whenever needed. 
Below are some basic tips from our Helping Students in Distress workshop.  Please see the bottom of this page for a video of this workshop from Fall 2021.  
If you have any questions or want to consult about a student, please reach out to us at shcscounseling@csueastbay.edu, or (510) 885-3735.
Distress Signals
While it is impossible to list all of the "red flag" behaviors that a student may exhibit, here is a list of some things you may notice.  These are of special concern when they represent a significant change from the student's typical behavior.
Physical Signs:
Poor personal hygiene

Change in appetite; noticeable weight loss or gain

Agitation or restlessness

Recurring physical complaints
Psychological Signs:
Delusions or paranoia

Expressions of guilt or worthlessness

Sad or anxious mood, or mood swings
Changes in Behavior:
Withdrawal or isolation

Loss of interest or pleasure in activities they used to enjoy

Increased alcohol or substance use 

Irritability or anger 

Increased absences, late work, or missed assignments 
Unmet basic needs:
Housing insecurity

Food insecurity

Financial struggles

Lack of access to medical services
Intervention Guidelines
You are not expected to be a mental health clinician or know how to solve a student's problems. What is important is that you notice something may be wrong, and express care and concern. Here are some things you can do when you address the student.
Use a trauma informed perspective.  This means focusing on support more than punishment - 
what will invite this student to be able to move forward?  Consider wondering, instead of, 
"What is wrong with them," "What happened to them?"
Create intentional connections - This is more important than ever as we connect with students remotely. 
Make space to check in and ask how they're doing before getting down to business.  
Follow up if someone is not engaging as usual.  Be aware of both who is showing up and reaching out, and who is not.  Take the extra step to reach out just in case something is wrong.
Make support resources visible regularly - List and discuss them even before you hear a need.  This breaks 
down the stigma of engaging with supportive resources and asking for help.
Model what you hope to see.
Be transparent when appropriate: normalize that we are all under stress, and that everyone makes mistakes.  
Share ways that you have had to be intentional and creative about your own self care, or
 reaching out for support.
Stay calm.  Your anxiety about the situation can complicate or even escalate an interaction.  Do your best to stay focused on the student and what they need.
Know your limits.  Consider your professional role in the student's life, as well as what you are personally comfortable taking on.  Communicate any limits to the student up front, rather than setting up an expectation that you won't be able to meet.  Make sure to also communicate your reporting obligations - that you cannot keep confidential information about an imminent risk to anyone's safety, abuse to a child or dependent adult, or sexual violence.  You can say, "I'm so glad that you're sharing this with me, and I need to tell you before you go on . . ."
Keep a compassionate perspective.  Imagine yourself in the student's position and try to find connection points to things that you have experienced.  Try to stay open and curious, and to refrain from judgment.  Remember that the student is probably making the best choices they can in a difficult situation.
Practice active listening.  Resist the urge to problem solve too quickly.  Listen carefully to understand their perspective, what they have already tried, and how they are feeling.
Talk directly about any concerns. Name the concrete behaviors that you observe, or the student's own words.  If you have any suspicion that the student may be feeling suicidal or being harmed by someone, ask about this directly as well.  You want to err on the side of asking, rather than missing the chance to identify a risk and connect the student to support.
Connect.  Create a warm, caring connection in the moment with the student - this is all most distressed students are looking for.  Help them think about people in their support system who they can also rely on.  And finally, educate the student about on campus resources for additional support. The CARE website is a good place to connect with campus resources, or to submit a CARE report to alert our multidisciplinary campus team to the situation so we can follow up.
Take care of yourself.  These conversations can be heavy for any of us.  After you finish, take a moment to check in with yourself and acknowledge how you feel and what you need.  It can be helpful to take a break, take a walk, or talk with a colleague about the interaction.
Please contact Student Health and Counseling Services if you would like to consult about a student issue.  You can email us at shcscounseling@csueastbay.edu or call (510) 885-3735 to talk with a counselor.  After hours, you can also call (510) 885-3735 and choose option 2 to speak with a phone counselor about any student situation.
Want more information? 
Join us for a live Helping Students in Distress workshop over Zoom:
We will also be offering a follow up session for participants in the Helping Students in Distress, Trauma Informed Teaching and Care Strategies, I Can Help, or Supporting Survivors workshops.  This will be a chance to connect with other staff, faculty, and student leaders, talk over scenarios and questions, and develop best practices together.
If you are not able to attend a live session, please feel free to watch the video below, recorded Spring 2023.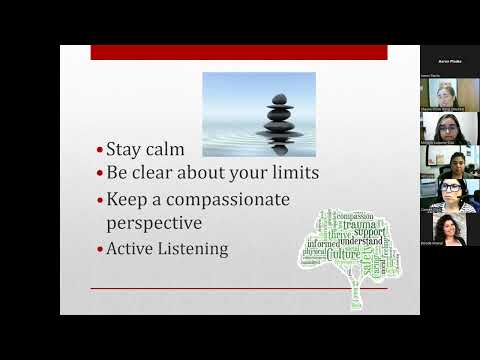 This video was recorded on 1/26/23.
Helpful links:
CARE website and reporting form
Pioneers for HOPE basic needs resources
Student Health and Counseling Services
Schedule a Student Health and Counseling Services appointment online