Counselor in Housing
Students living in University Housing have priority access to an on-site mental health therapist.
Chanda Watson, the Counselor in Housing, is dedicated to supporting on campus Housing residents. In addition to mental health counseling, Chanda can provide guidance on conflict mediation between roommates, and connect residents to other support programs and services.
Housing residents can receive brief individual and couples therapy, as well participating in a variety of counseling groups that meet throughout the week.  All of these services are covered by the health fee paid at registration each semester.
Counseling sessions are confidential, and are held either in-person in Sequoia or via Zoom.  Please note that all sessions between Monday 4/24/23 and Friday 5/12/23 will be held via Zoom.  If you need to meet in person, please send Chanda a secure message and she will do her best to accommodate you.
Schedule a counseling appointment through our online portal, or by calling the Student Health and Counseling Services front desk at (510) 885-3735. Click here to go to portal.
Appointments are available on a first-come, first-served basis.  If you can't find an in person appointment, please check for telehealth appointments that may be available!
Be sure to mention that you are a Housing resident!  When scheduling online, look for Housing appointments: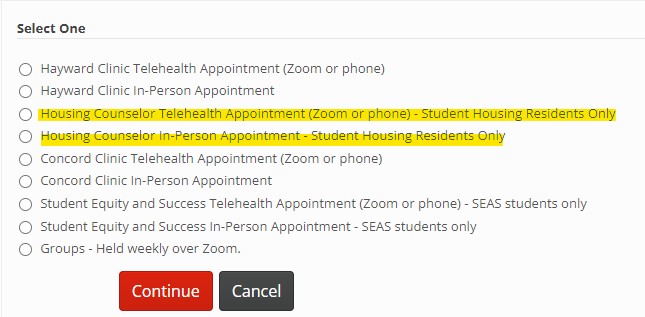 Meet Counselor in Housing Chanda Watson, MSW!
Chanda 
is a CSUEB Alum, class of 2018 Master of Social Work. She began her counseling career here at CSUEB just after graduating.
Chanda has a passion for helping individuals, couples, families, friends, roommates, or co-workers to connect with themselves, create healthy boundaries, develop effective communication skills and build a positive narrative in respect to their lives.
Her vision as a counselor is to help others achieve their goals, adjust/change perspective, and to heal in whatever capacity is needed. She works to dispel the myth in numerous cultures that "counseling is not necessary."
Chanda takes pride in creating a space that is inviting, non-judgmental and emotionally safe for all students. She has built a reputation for her compassion, ambition, honesty and empathic nature that has allowed her to easily connect with her students as she helps them enhance their quality of life and relationships.
Chanda is a wonderful mother of two amazing boys, one of whom is autistic and in college. In her free time, Chanda loves reading, cooking for her family and friends, taking long walks, researching, and spending quality time with herself.
So, if you see her office door open in Sequoia on the first floor, stop in and say hello!