Fall Convocation 2019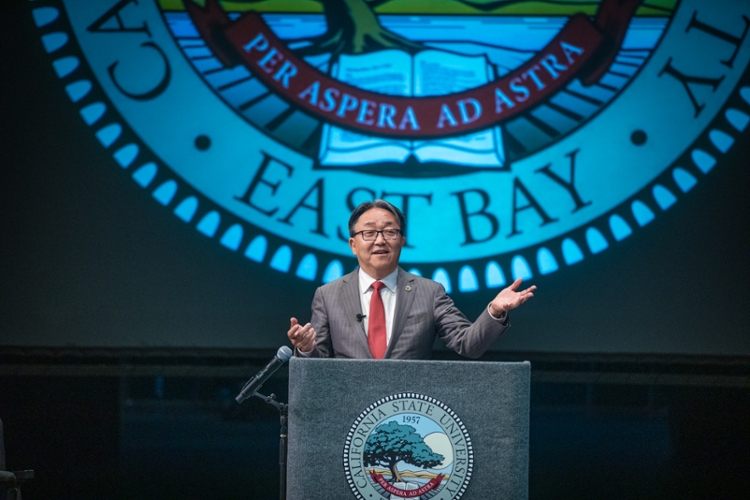 Thank you Provost Inch, and good morning Pioneers. I would like to thank Faculty Marshal Dr. Yates, ASI President Maxion, Academic Senate Chair Lee, and Provost Inch, for joining me on the stage this morning. I appreciated hearing your goals and aspirations for the new academic year and look forward to working with each of you.
Today I welcome you — faculty, staff and students of CSUEB, back to campus. I am very pleased to be with you on what marks my ninth Convocation address to the University.
I would like to start by thanking the faculty for all the great work you do for our community. The inclusion of CSUEB among best of lists (such as Forbes Magazine Best Value, U.S. News and World Report Best Online Programs, Money Magazine Upward Mobility) all speak to the strength of our faculty. We remain deeply committed to hiring faculty dedicated to academic excellence, who believe in the power of education to transform, and who better reflect the diversity of our students. Increasing tenure-track faculty enhances the undergraduate and graduate academic experience by increasing student-faculty engagement; supporting undergraduate and graduate research; and contributes to building a strong campus community.
I want to extend a special welcome to the 25 new tenure track faculty members who are joining CSUEB. Each of you are starting a professional journey at a university committed to educating and elevating our students. I believe you will find the university both a collegial and supportive environment that can provide the resources you need to create successful learning outcomes. We look forward to your contributions in advancing both the University and the success of our students.
We have now hired over 200 new tenure track faculty since I became your President—202, to be exact. I pledged to increase the number of tenured/tenure track faculty from 290 to 350, and we are so close! As of today we have 348 tenured/tenure track faculty- just short of our goal. While we have not yet reached the 350 target, the Provost is authorizing as many as 30 additional tenure track searches this year. I want to emphasize again, that the goal of 350 tenured/tenure track faculty was always intended to be a floor, not a ceiling.
I would now like to acknowledge our academic and administrative leaders including the Academic Senators for all the work they do. Without their professional contributions and leadership, the potential of the university cannot be realized. While last year was challenging, our commitment to collaboration in service of our students and the university remains strong. I look forward to our work together this academic year. Let's give them all a round of applause.
Next, I am pleased to introduce the members of the President's Cabinet. I have an exceptional team of administrators who are dedicated to advancing the mission of CSUEB.
As I call your name, please stand to be recognized and please remain standing:
Dr. Edward Inch, Provost and Vice President for Academic Affairs;
Ms. Debbie Chaw, Vice President for Administration & Finance/CFO;
Dr. Suzanne Espinoza, Vice President of Student Affairs
Mr. Bill Johnson, Vice President for University Advancement;
Ms. Kimberly Baker Flowers, University Diversity Officer; and,
Mr. Derek Aitken, Chief of Staff.
Thank you—you may now be seated.
I would also like to recognize other members of CSUEB who have assumed permanent or new administrative and staff roles. I would ask those administrators and staff who are here for the first time or have taken on new roles over the past year to please stand, if able, or wave. Please help me welcome and congratulate these colleagues.
Our success as a university relies on the strength and expertise of our staff. As the fabric of the campus, connecting students to resources, faculty and to each other, they often work behind the scenes and are unacknowledged.  They lead, advise and mentor our students, ensure the campus is kept clean and beautiful, update and fix our computers, maintain a safe environment, and so much more. Please join me in a round of applause to thank our staff for their valued contributions that foster student success and make this a welcoming university.
I would like to introduce my wife, Barbara Hedani-Morishita. She strongly and tirelessly supports all the work and activities that I do and is my #1 supporter. She has been actively involved with Friends of the Arts, Renaissance Scholars and Pioneers for HOPE. Barbara, would you please stand?
As is our tradition at Fall Convocation, we recognize individuals who have been honored by the University community over this past year.
I would like to invite the following individuals to stand (and remain standing) and be recognized for their awards:
Erik Helgren, George and Miriam Phillips Outstanding Professor award;
Mary D'Alleva, Provost's Award for Outstanding Contributor to Community Engagement;
Patty Oikawa, Provost's Award for Outstanding Researcher—untenured;
Scott Fung, Provost's Award for Outstanding Researcher—tenured;
Reyes, Provost's Award for Outstanding Scholar on Issues of Diversity, Social Justice and Multiculturalism;
Shubha Kashinath, Provost's Award for Outstanding Faculty Mentor of Students;
Julie Severet, Provost's Award for Outstanding Lecturer;
Chris Chamberlain, the Sue Schaefer Outstanding Service award; and,
Sylvia Musson, recipient of the Vivian Cunniffe award for outstanding staff employee.
Please join me in congratulating our recipients. Thank you for your valued contributions and congratulations! You may now be seated.
Recently, I have been reflecting on the first-time freshmen entering class of 2019 which represents our first Graduation Initiative 2025 cohort. While the need to create an environment that nurtures and sustains our student body has been at the forefront of our work, we will be observing if there are opportunity gaps--especially equity achievement gaps—during their six-year graduation period. Over the summer, a team of faculty and staff have been reimagining advising and support services to help make our processes better, more streamlined and effective. I will expand on this later, but am mentioning it now as I believe this effort will be key to reaching our graduation goals.
Seeing new students on campus for orientation and the various summer programs reminded me of our collective responsibility to their personal and professional growth. Research continues to demonstrate the importance of connection and engagement to faculty and staff. Just as the need for belonging exists in each of us, our students gain self-confidence with each positive experience on campus. Every moment each of us spends with a student is an opportunity for impact and it starts before they set foot inside the classroom. Thank you for the connections you make with our students. You make a difference in their lives.
I wanted to share a story about one particular student I know — Hickry Nguyen. As immigrants to the United States, he and his family faced extreme hardship, enduring periods where there was no food to eat and no money for books. What I found noteworthy about Hickry is that he shared that his parents were most concerned about his development as a person, not about obtaining wealth. As a father of two boys, young men now, that particular worry resonated with me. When so much is out of your control, how do you ensure your child grows up to be a thriving, well-rounded individual? 
Since Hickry transferred to CSUEB, he has flourished as a Health Sciences student and was recently inducted into the Tau Sigma Honor Society for transfer students. In addition to achieving a strong academic record, he has found time to volunteer at local hospitals and hospices and participate in campus cultural events. When Hickry addressed an auditorium of high school students and their families this past spring, among all the topics and advice was how impactful he found study abroad in Germany and how it affected his views on how we care for the sick in the United States. As the academic year begins, I ask you to remember Hickry's journey and transformation. I remain inspired and hopeful that the work we do matters even more during these challenging times.
Last year, the University accomplished several notable achievements, some of which I would like to acknowledge today. In addition to a successful implementation of Semester Conversion, more than 11,000 students met with advisors last year. As our culture of advising evolves, the data provided by Bay Advisor, our Student Success Collaborative, will continue to track student/advisor meetings and maintain common records among advisors.
Another significant achievement from last year was the number of students completing quantitative reasoning and written communication requirements in the Fall semester. We saw a 52% increase in students completing the B4 requirement and a 17% increase in students completing the A2 requirement compared to the year before. Importantly, we saw improvements in the percentage of both African-American and Latinx students completing the Math requirement, with 71% completing in year one. Additionally, 91% of both African American and Latinx students completed 30 or more units in their first year, up from 82% before. More students successfully completing these required courses is an important and necessary step towards improving their retention rates and ultimately, graduation.
Oftentimes, we hear about our student athletes' hard work and discipline in athletic competitions, but I wanted to share with you that the same hard work and discipline led to impressive academic success in the classroom. In 2018-19, Pioneer student-athletes posted a 3.27 grade point average in the Fall semester and a 3.21 grade point average in the Spring semester.  Additionally, 13 CSUEB student-athletes achieved a perfect 4.0 GPA in the Spring semester. This marks the fifth straight academic term for which the department-wide GPA exceeded 3.20. Notably, there were 98 student-athletes who exceeded a 3.5 GPA in Spring 2019 resulting in their placement on the Athletic Director's Honor Roll. That total number of student-athletes is the largest since the honor was instituted in 2016. Further, in total, 69 Pioneer student-athletes were named to All-CCAA academic teams. 
 
Beyond those academic successes, Pioneer student-athletes accumulated over a thousand community service hours for the second consecutive year and posted their best overall finish in the Hiegert Commissioner's Cup standings, which is an aggregate ranking using a department's finish across CCAA-sponsored sports. I am proud that our student-athletes are star performers in the classroom as well as in their sports.
Pioneers for H.O.P.E. continues to build on its success from last year, providing much-needed support for our most at-risk students confronting homelessness and food insecurities. Our three food pantries collectively distributed over 33,000 lbs. of food to the CSUEB community – a nearly two-thirds increase over last year. They also distributed over $4,000 in emergency fund grants to students with critical needs, opened an on-site Emergency Housing Unit for displaced students, received a faculty research award and a student-led hunger elimination grant from the Chancellor's office.  
Sustainability remains a core value at CSUEB, and our efforts to educate the future caretakers of the planet, while also serving as a model to our surrounding community, are being recognized. The university earned a Bronze rating for our Sustainability Tracking, Assessment & Rating System (STARS) Report. STARS is the premier international higher education benchmarking tool for tracking and assessing sustainability achievements in the areas of academics, engagement, operations, and planning & administration. This is a wonderful and notable achievement as we work together towards climate neutrality by 2040. 
Over 30 campus departments and 15 community partners contributed data and information towards our first application for the Carnegie Classification for Community Engagement. The classification goes beyond documenting hours and examines whether we have the ability to tell our own story about engagement and community impact. Colleges can apply once every five years and the process is extremely rigorous (almost 40% were denied during the last application cycle). However, I believe our institutional culture of social responsibility, through the Center for Community Engagement and the programs they facilitate, has matured. We look forward to the results of our application for the Carnegie Classification for Community Engagement that will be announced in December.
The impact of service learning programs such as Pioneers for Change demonstrates how CSUEB can change lives. Another student I want to highlight is our 2019 Newman Civic Fellow recipient, MyKale Clark. From a young age, MyKale and her family prioritized giving back to the Los Angeles community where they lived. From feeding the homeless to giving toys during the holidays to children in foster care, Mykale grew up in a household that valued service to others. In high school, she joined the Speech and Debate team, composing speeches that instilled a passion for political advocacy. Now in her fourth year at CSUEB as a Speech, Language and Hearing major, she has been changing the lives of others in several ways.
While maintaining a strong academic record, MyKale has volunteered for the Aphasia Treatment Program, helping those who may have a communication impairment in speaking, writing or reading. As a member of Pioneers for Change, she volunteers for the humanitarian nonprofit Med Share, which sends medical supplies to populations in need across the world. In her statement to the fellowship program, she expressed how leadership is "about serving and advocating for those whose voices may be unheard." MyKale Clark is a shining example of the Pioneer spirit and of how higher education lifts not just individuals, but communities.
Once again, the CSU has proven that we are stronger when we work together, and that strength was evident in this year's budget allocation from Sacramento. For the second year in a row, the CSU has seen an increase in recurring state support – $323 million of new, recurring state support for the CSU – the most significant year-over-year increase in over a decade. The state's budget plan fully funds our employee compensation and mandatory costs and provides enrollment dollars to grow the CSU student population by 2.7 percent. 
In addition, the state is funding the CSU $239 million of one-time deferred maintenance support - an amount nearly seven times larger than last year's allotment for deferred maintenance. Further, the state is providing the CSU money for students experiencing food and housing insecurity, including emergency student housing and mental health services, and legal services for our undocumented students.
The cost of living in the Bay Area continues to rise at alarming rates and is having a severe impact on our employees' ability to find affordable housing. We are currently exploring ways to both ease the transition of new hires into the Bay Area and to ease the struggle for our existing employees. A feasibility study is underway, looking into building faculty and staff housing on or near campus. In addition, we are exploring other solutions to help our existing employees as they rent and even try to buy in this market, including the possibility of short term loans, working out master leases with local apartment complexes for our employees and advocating at a system level for better loan terms for employees of the CSU. I will be convening a Housing Task Force this semester to explore these and other short- and long-term solutions to help alleviate some of the pressure many of you are feeling today.
The budget increase for fiscal year 2019/20 is timely for our campus as our enrollment has stabilized after semester conversion much sooner than most had expected. Last year I told you about our record number of students who had graduated ahead of semester conversion, and the impact that had on our enrollment. I am happy to report that our primary indicators point to a significant increase in enrollment this semester – not just balancing out the 6 percent drop in enrollment from last year, but also likely attaining this year's 2% higher budgeted FTES target. This is an unprecedented accomplishment, and I would like to recognize the work of the Strategic Enrollment Committee for their efforts to help make this happen.
Particularly I want to commend the outstanding partnership of Academic Affairs and Student Affairs personnel working together to provide capacity for these new and continuing students and removing many of the barriers to new student matriculation. Most notable are significant improvements in our average unit load, timely disbursement of Financial Aid by the end of March, and transfer students receiving preliminary degree audits prior to registration for classes. If we don't exceed target this year, we have built enough momentum to easily reach our enrollment targets next year!
Improving the quality of the student experience remains a core strategy of student success here at CSUEB. For the past three years this campus has committed itself to the goals of the CSU 2025 Graduation Initiative to ensure that our students successfully complete their degree paths in a timely fashion. And we have made great strides graduating record numbers of students. For all of your hard work and dedication to our students, I commend and thank you. 
This year, the university continued to make progress towards our goals of student success, as evidenced by higher persistence and graduation rates, and a lowering of the achievement gaps among racial/ethnic groups. In addition, the university developed systems and structures to support students as they move through their CSUEB education and identified key metrics to measure performance against student success goals.  
Our Freshmen 4-year and 6-year graduation rates both saw improvement over last year, as did our 2-year and 4-year graduation rates for transfer students. The six-year graduation rate is making steady progress towards the GI 2025 goal of 62%, with the latest cohort graduating at 48.2%.
Great gains have also been made towards the four-year graduation rate for freshmen, with a goal of 35% and the latest cohort reporting a 16.6% graduation rate. The graduation gap for our under-represented minority students also saw improvement this past year, from 17.3% to 14.1%. Closing this gap will continue to be a priority.
For transfer students, there have been steady increases in both the two year and four-year graduation rates. The four-year transfer graduation rate was established at 83% and we are gaining on that goal with the latest cohort graduating at 76.8%. The two-year graduation rate
for community college transfers has a goal of 49% and the latest cohort is at 43.9%. I am extremely pleased for our students and for everyone who has worked so hard to get us to where we are today.
The university has introduced a number of activities and strategies to enhance student performance outcomes, which were instrumental to these improvements:  
We added sections to address bottlenecks in required areas when enrollment reached near capacity, reducing waitlists by more than half.

 

We fully implemented Bay Advisor and developed degree audit reports and held faculty advising workshops. We also worked with the professional advisors to be more consistent and proactive based on the data provided by Bay Advisor to better inform student advisors across campus. We are now able to accurately track student/advisor meetings and keep common records among advisors. Our Enhanced Advising efforts included developing Individualized Advisement Plans, appointing Faculty Advising Fellows, and offering more Academic Advising Workshops.
We increased the number of professional advisors by eight. Last Spring, 754 freshmen attended at least one advising appointment and these students had an average cumulative GPA of 2.85. For those freshmen who did not schedule an advising appointment, their gpa was slightly lower, at 2.69.
We deployed more Supplemental Instruction (SI) and tutoring to meet demand, especially in STEM and English fields. Overall, the number of SI sections offered was doubled this academic year and created capacity for more than 1,600 students. Students enrolling in SI, on average, are three times less likely to receive a Drop, Fail, or Withdraw.
This year, as we continue this work, we will focus more intentionally on what we can do as a campus to retain our students and eliminate equity gaps. I am strongly supportive and committed to this project and to ensuring our students have access to the resources they need to be successful.
This past April we broke ground on the CORE Building that will be the future home of the library, the Student Center for Academic Achievement (SCAA), and the hub for programs focused on innovation and entrepreneurship. Information is available in the Capital Projects section of the facilities web site and will contain updates on the building's progress. I recommend that each of you visit the site for updates, as a project of this magnitude in the center of campus will require the university community to be aware of changes to pathways, new fencing and heavy equipment traveling across campus on any given day. I appreciate your understanding for any short-term inconveniences as the university undertakes this complex, vital and exciting project.
Over the last two years, activity in the University Advancement o­ffice has focused on closing out the university's Rising in the East comprehensive campaign – a campaign with a very ambitious $60 million goal. The University Advancement team followed up last year's record-setting year with the third largest fundraising year to date, raising over $7 million this past year, significantly surpassing our annual goal once again. To date, $65 million has been raised and we anticipate officially closing the campaign this fall.
The progress in our Advancement division can be seen in multiple ways. Not only have major gifts nearly tripled from $2 million to $6 million, but we have also developed more donors and bigger gifts through our annual giving, major gifts, and planned giving programs. And while I have specifically recognized the efforts of the Advancement team, I recognize that all of us have a role to play in building upon our philanthropic success in supporting our outstanding and deserving students. Thank you all for your continued efforts in this important endeavor through your financial support and/or time invested in our fundraising initiatives.
But, as everyone in University Advancement knows, our fundraising efforts will carry forward. Planning is still underway for The Applied Sciences Center - a facility designed to support student and faculty collaborative research. We need to continue to raise money now and in future years for that project as well as for more student scholarships, student-faculty research, enhancing faculty partnerships in the community and region, and additional capital projects.
I want to leave you with this last initiative where everyone's participation is critical--yours, mine, our neighbors, friends and family. We begin the academic year with plans to educate our university community --students, staff and faculty--about the upcoming Census and what it means to be counted. CSUEB and other local higher education institutions are working with the Alameda County Complete Count Committee, as approximately 60% of the county's revenue comes from federal and state resources. We know that fear of the government, concerns about data privacy and language barriers will contribute to a lower count. An undercount of even 3% could mean a loss of $1 billion to Alameda County over the next decade.
An undercount also impacts funding of Pell grants and we know over 40% of our students rely on that assistance. To help overcome these challenges and increase participation, we will outreach via social media to promote participation in the census, host campus speakers during the week of inclusive excellence who will highlight the importance of being counted, and inform faculty about how to incorporate the teaching of the census into existing curriculum. Everyone counts, no matter their citizenship status, and it is imperative that we share that message. 
In these politically charged times, with anti-immigrant rhetoric coming directly from the White House, it is particularly incumbent upon us to ensure our undocumented students are supported and safe. Due to the September 2017 rescission of the Deferred Action for Childhood Arrivals program (or DACA), tens of thousands of DACA and Dreamer recipients will see their protections expire if they do not successfully apply to renew before the end of the year. On the CSUEB Undocumented website is a robust list of resources for our students, including how to renew DACA and how to apply for Dreamer status. I ask each of you to take the time to familiarize yourself with the information. Our university and the CSU remain committed to advocating in our communities and in Congress for our undocumented students.
As we heard earlier from Ms. Maxion, ASI will lead voter registration drives on campus in the lead up to the March 2020 Primary Election. While the Presidential race will naturally garner the most attention, Californians will also have the opportunity to weigh in on many different candidate races, as well as ballot measures at both the local and state level.  I would ask each of you to make a point of encouraging your students, coworkers, families and friends to register to vote, if eligible. We owe it to ourselves and to each other, as a part of this democracy, to participate.
Last Thursday, many of you had the chance to hear Dr. Mildred Garcia, president of the American Association of State Colleges and Universities and former president of CSU Fullerton, deliver the keynote at Back to the Bay. She gave an inspiring speech and concluded with four things she wanted us to do for our students toward their success:
Pour your incredible talents and care into your students, every day;
Understand them and show them how to learn and fall in love with education;
Empower their learning with innovative teaching that inspires them; and,
See them as tremendous contributors, assets, and new creators of knowledge.
I know at CSUEB, each of us—faculty, staff, administrator—is focused on assisting our students to reach for the stars and realize their dreams. Let us begin the new academic year by continuing to, in her words, "recognize, honor and lift up their experiences, passions and perspectives."
Two weeks ago, the world lost one of the most influential voices of America, Nobel Laureate and Princeton professor, Toni Morrison. Among her prolific works is an address to students at Portland State University. In her remarks, she said:
"All of us are born, and all of us are going to die. And the point is to do something worthwhile in between. You got a little bit of time. You got some dragons to slay? Pick the ones you want to slay. Make it worthwhile. If you have to do something, you might as well do the best thing. No point in fiddling around with third-rate life. Do the best!"
I am very excited about the coming academic year. We have much to look forward to with the first cohort for our GI 2025 six-year graduation rate goal and our rejuvenated and outstanding faculty and staff.
I have said it before but it is worth repeating -- being the President of CSUEB is my honor and the most rewarding and best job I have ever had. And all of you have helped to make it so. I wish you another productive and great year!
Thank you and Go Pioneers!